FLEXOFFERS ACHIEVES A
WHOLE NEW LEVEL OF EXCELLENCE
Highly Targeted Placements
FlexOffers.com's new media placement opportunities are designed to help optimize your brand's presence and promotions in our network. Our goal is to increase the awareness of your program in order to improve sales generation. These media placements give our publishers the ability to promote the best and most exclusive promotions you provide for your campaigns.

Featured Advertisers Page
Becoming a Featured Advertisers on the FlexOffers.com network can increase the visibility of your business, improving your potential to generate more revenue. Advertisers get optimal exposure on our Categories page and in their individual Category section listings.
Advertiser Categories Page
As a Featured Advertiser, you get premium logo placement on our Advertiser Categories page, which redirects publishers to your Program Detail page. There, they can apply for your program and get links.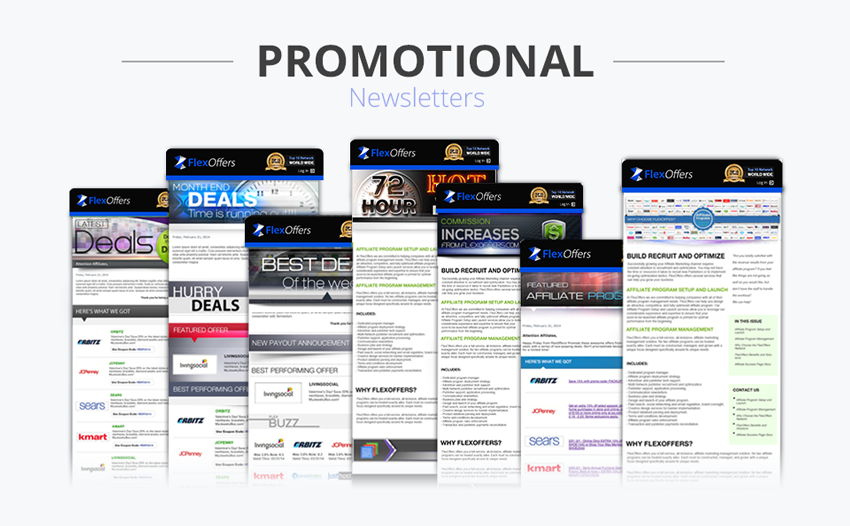 Exclusive offers will be highlighted in our Best Offers of the Week newsletters, which also links to our bargain-friendly Seasonal Spotlight Savings page. Our Newsletters are distributed to all of our active publishers and receive an average 25% open rate and 20% CTR. Newsletters and Seasonal Spotlight Savings page placements are visible to all FlexOffers.com publishers, and therefore present an important recruitment opportunity.
Featured Category Placements
Featured Advertisers are guaranteed top logo placement in up to three categories on the FlexOffers.com network. Publishers are able to see your company logo pinned to the top of our listings, ahead of the competition. 
FlexOffers Solo Blog Entry
An original, advertiser-specific, SEO-rich blog written by the FlexOffers.com team. Banners and text links of your choice embedded within the blogs drive traffic to your program's Get Links page, which features all the current promotions publishers need to start generating revenue today.
Flash Sale Announcements
Flash Sale Announcements include a custom placement located above the fold on the Publisher's home page. These placements focus on limited-time offers or heavily discounted products that have a better chance of appealing to customers.
Seasonal Spotlight Savings
A collection of current, limited-time promotions viewable by FlexOffers.com publishers upon logging into their account. If joined to a listed program, Publishers can pick up a unique tracking link for the offer.