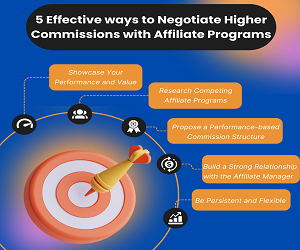 Making the most money possible and increasing profitability are two of your top priorities as an affiliate marketer. You can dramatically increase your revenue and get paid for your efforts in generating sales by negotiating higher commissions with affiliate networks. Even though it might first seem difficult, you can successfully obtain higher commission rates with the appropriate strategy and approach. Five efficient approaches to negotiating larger commissions with affiliate networks will be covered in this blog post. You may fortify your alliances and raise your affiliate marketing income by putting these strategies into practice. Let's begin now!
---
---
1. Showcase Your Performance and Value
It's critical to show the value you bring to the table when contacting an affiliate program for commission talks. Describe your performance, conversion rates, and revenue you have brought in for the program using statistics and analytics. Highlight your company's brand-building successes, consumer endorsements, and successful initiatives. Your leverage in negotiations will increase if you establish yourself as a valuable partner worth investing in by demonstrating your value and effect.
2. Research Competing Affiliate Programs
Do extensive research on other affiliate programs in your niche before negotiating higher commissions with affiliate networks. Compare the affiliates' commission schedules, marketing assistance, and additional rewards. With this knowledge in hand, you can present a convincing argument for why your targeted commission rates are fair and competitive. The affiliate program you're negotiating with may be more ready to agree to your terms if you can show that rival programs provide more commissions for comparable performance.
3. Propose a Performance-based Commission Structure
Consider recommending a commission system based on performance that complements your marketing objectives and skills. You could, for instance, ask for a tiered commission structure where higher sales volumes result in higher commission rates. As a result of this strategy, which benefits both you and the affiliate program, you are encouraged to generate more sales while also being rewarded for your success with bigger commissions. Performance-based compensation plans may benefit both parties and improve your chances of getting higher commission rates.
4. Build a Strong Relationship with the Affiliate Manager
Relationship building with the management of the affiliate program can have a big impact on how well you're able to negotiate higher commissions with affiliate networks. Regularly communicate with the manager, offering suggestions and feedback to enhance output and program effectiveness. Offer your help in marketing new items or campaigns and express a sincere interest in the program's success. Gaining a mutually beneficial understanding during negotiations can be facilitated by developing rapport and trust.
5. Be Persistent and Flexible
Be persistent in your efforts to negotiate higher commission rates because it might not always materialize right away. Don't give up if your original proposal is rejected. Instead, be willing to compromise and explore other options that can work better for all parties. It's critical to maintain flexibility and modify your bargaining tactics in response to the program's input and specifications. Your focus to achieving a win-win outcome might show your professionalism and commitment, which could eventually result in higher commission rates.
---
Your ability to successfully negotiate higher commissions with affiliate programs is crucial to your success in affiliate marketing. Keep in mind that negotiations are a continuous process, and as your influence and performance increase, so will your capacity to obtain better commission rates. Building solid partnerships requires time and work, but your continuous efforts will surely bear fruit in due time.