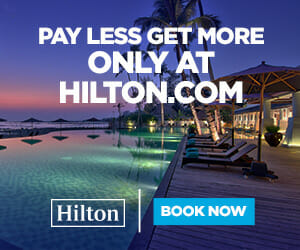 As crowded as the hotel industry is, there are few affiliate programs with as much positive potential when marketed on your landing page as Hilton Hotels. Their name brand recognition and tiered commission structure that rewards publishers more for new customer makes them enticing (and easy) to promote this time of year.
Consider these engaging offers from Hilton Hotels, now available on the FlexOffers.com network!
---
Register for the Hilton Honors program today and receive a 10% discount on bookings!
Earn Double Points after your first stay when you join the Hilton Honors program today!
---
No hotel affiliate program rewards you as a publisher as prominently as Hilton Hotels does. Not only will the company's promos help convert clicks on your site, but when your readers sign up for the Hilton Honors program, that status ultimately puts more money in your pocket.
As a member of the Hilton Honors program, not only will guests receive the best rates, they'll also be exclusively guaranteed up to 10% off every reservation they make. Other benefits include convenient digital check-in and check-out, as well as complimentary internet access during stays, and more.
---
Save up to 50% on Sunday nights at participating hotels in the Hilton Portfolio in the Americas, including the Caribbean. Turn your weekends into mini vacations. Book Now!
Get breakfast for 4 & premium Wi-Fi. Book Hilton's Family Fun Package with code PBFFP1.
Get $50 daily credit for every night of your stay, at thousands of Hilton hotels worldwide with code RPTVS1.   
---
As members of the Hilton Honors program, your web traffic can earn double points on every stay now through December 31st. This Double Up promotion incentivizes new reservations as the points earned can be used towards rewards that are quite practical this time of year.
With their Hilton Honors points, members can go to Amazon.com and use them towards purchases, be it for gifts for the family or little indulgent treats for themselves. Friends and family members can also pool their points together for big purchases, such as 4K TVs and digital cameras for capturing once-in-a-lifetime moments worth remembering.
---
---
Don't miss your opportunity to promote Hilton Hotels and their Hilton Honors program on your site through FlexOffers.com today!