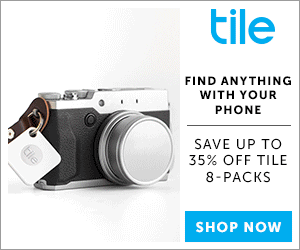 As the entertainment world is preparing for the glitz and glamour of the 89th Academy Awards on Sunday, February 26th, your readers are in full planning mode to throw the best watch party their friends have ever attended. Take advantage of all the Oscar buzz by marketing these enticing Academy Awards offers on your site through FlexOffers.com!
---
Party guests who don't want to misplace their keys come Oscar night will be glad they've got a Tile Bluetooth tracker attached to their keyrings. Using the free smartphone app, Tile users can find lost valuables through an audible tone or geolocation mapping on their devices.
Tile is a tiny Bluetooth tracker that finds your keys, phone, anything. Shop now and save up to 35%.
---
To really appreciate the wondrous music from Oscar noms like La La Land and Moana, your audience members will want to be sure they have a Sonos sound system installed in their home. Their smart network of wireless speakers can turn any room into an immersive environment ideal for an unforgettable cinematic experience.
Use Coupon Code FREESHIPSONOS for Free 2-day Shipping on all Sonos Wireless Home Audio products.
---
At shopspring.com, your web traffic can find affordable, name-brand outfits to wear on Oscar night, in addition to home décor and beauty essentials. Shoppers don't have to have the budget of Fantastic Beasts and Where to Find Them to look fantastic in their own right when they shop this online storefront.
Featured brands on Sale, including Kenneth Cole, Reiss, Zac Posen, French Connection and more @ ShopSpring.com
---
Your patrons can instantly look like the Hollywood elite when they buy the designer garments and accessories sold through the Saks Fifth Avenue affiliate program. Boasting an inventory with brands that include the likes of Diane von Furstenberg and Salvatore Ferragamo, shoppers are likely to catch the eye of a few paparazzi with the ensembles they acquire here.
Spend Some… Get Some! Receive up to $250 OFF* your online purchase. Use code SHOPMORE. Online ONLY. Valid 2/21 – 2/22. Shop Now!
---
Ordering outrageous gift baskets from 1-800-BASKETS.COM is one way for your site visitors to ensure their party doesn't die down as the night wears on. Their curated collections of gourmet foods, delicious desserts, and bottles of wine are sure to be a hit among guests!
President's Day Sale: Save 20% off Everyday Gifting Baskets from 1800Baskets.com! Use code 20BEST (Valid 2/20/17-2/27/17)
---
Providing the go-to snacks for watching films, The Popcorn Factory is an easy advertiser to market on your site leading up to Oscar night. Sold in sweet and savory varieties, this is a classic movie accompaniment that no watch party can be without.
Save 15% on our premium Gourmet Popcorn, Snack Assortments, Gift Tins, Towers, Samplers and more at ThePopcornFactory.com! Use promo code LS15
---
Don't forget to feature these and other amazing Academy Award offers on your landing page via the FlexOffers.com network today!