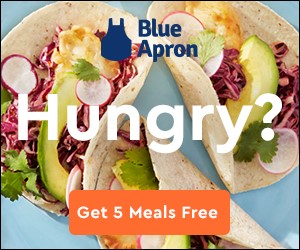 Where would the professionals among your audience be without their administrative assistants? Lost, late, and lacking the organization to keep daily operations running smoothly – that's where.
Take note of these Administrative Professionals' Day 2018 discounts now available to promote via the FlexOffers.com network!
---
Boasting a community of over a million home chefs and counting, the meals that can be prepped with the seasonal ingredients and exciting recipes offered through Blue Apron are sure to be a hit on Administrative Professionals' Day. Eco-conscious individuals will appreciate that this better food system features farm-fresh produce and sustainably-sourced proteins while also reducing food waste.
Blue Apron: 5 Meals Free With Your First 2 Orders! (April Only)
Blue Apron: $50 Off!($25 Off Each Week)
---
What pairs better with a delicious home cooked meal than a bottle of wine? Through the Gold Medal Wine Club affiliate program, customers can have award-winning wines delivered to their door (as well as their administrative assistants') each month from small productions that will make lasting impressions on their palate.
Give a Gift that Keeps on Giving! FREE Personalized Greeting Card with wines wrapped in FREE Organza Cloth Gift Bags in your first shipment.
---
Speaking of tasty, Jelly Belly is still making waves following Easter with the release of their new line of Krispy Kreme-inspired jelly bean flavors. Your site visitors should consider ordering a few extra bags of these sweet treats, as they likely won't last too long at the office.
Jelly Belly Krispy Kreme Doughnuts mix jelly beans! Five delicious flavors inspired by the doughnut treats. Limited time offer. Shop Now!
---
The stylish & durable Bluetooth trackers sold at thetileapp.com are excellent gift options for busy professionals who occasionally misplace their keys or other valuables. With the press of a button or through an intuitive app, Tile users will be able to find the items most valuable to them and get back to business with less time wasted wandering around.
---
Thanks to the Spring Flash Sale going on right now at ihg.com, CEOs can be exceptionally generous to their assistants by booking a weekend hotel getaway while still saving up to 30% off the reservation. A little R&R can do wonders for office workers who've not gotten out of the grind in some time, leaving them feeling refreshed and more productive than ever upon their return.
IHG Spring Flash Sale: 4/23-4/30, save 15-30% at select IHG hotels!
---
A brand new 2-in-1 laptop purchased through the Lenovo USA affiliate program makes for a great gift on Administrative Professionals' Day and most any other day of the year. Power-packed gaming desktops and accessories are also stocked, including VR headsets powered by Windows Mixed Reality that will take users to worlds far beyond their own.
$230 Off 15″ Flex 5 convertible laptop 80XB0013US with Intel Core i7, 1TB HDD, 8GB memory now just $699.99 with code SPRINGSALE
---
Update the links on your landing page with these tempting Administrative Assistants' Day discounts now on FlexOffers.com!