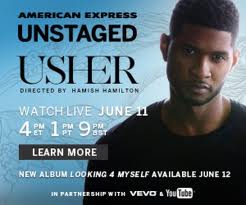 American Express has partnered up music video website VEVO and video-sharing website YouTube to present the seven-time Grammy winning and multi-platinum recording artist Usher live in concert from the Hammersmith Apollo in London on Monday June 11 at 4pm ET. The interactive art-in-motion experience will be directed by Hamish Hamilton, who recently directed Madonna's Super Bowl XLVI halftime show, and debut Usher's highly anticipated album release LOOKING 4 MYSELF.
---
Getting Behind the Digital Velvet Rope
Continuing the popular interactive practices of the American Express "Unstaged" series, which have featured the likes of Coldplay, Jack White, and Arcade Fire, fans and American Express cardholders will have access to incredible content and discounts during this one-of-a-kind performance.
Features like "Take the Stage" will allow fans to directly interact with Usher himself via digital avatars dancing on stage alongside the smooth superstar. Members of the American Express Entertainment community will vote on their favorite fan submitted question for Usher with the "Press Pass Challenge," and the winner whose question was chosen will receive two tickets and a backstage pass to an upcoming Usher performance. With "Word to Usher," select fan tweets with the #AmexUNSTAGED hashtag will be chosen to appear in an interactive visual installation that reacts to Usher's dance moves on stage.
For those who can't make it all the way to London for Usher's "American Express Unstaged" performance, it will be livestreamed on Xbox Live via the VEVO application. Rebroadcasted clips of the show will be made available after the performance on Xbox Live, YouTube, and Twitter.
American Express Cardmember Exclusives
It wouldn't be an "Unstaged" performance without some special features for loyal American Express cardholders. Since May 31st, fans have been able to download a free copy of Usher's hit single "Scream" via iTunes, which will be available for a limited time only. Using the Sync and Save feature, cardmembers who sync their eligible American Express Card with their Facebook, Twitter, or Foursquare accounts will unlock exclusive savings and experiences- which will be announced during Usher's livestream performance on June 11th.
Those who register for Serve® from American Express will also receive a $25 statement credit when they spend $25 or more on their first purchase. Serve® is a digital prepaid account that can send and receive money online, via mobile, and on Facebook, and used everywhere American Express Cards are accepted in the United States.
Ushering in an Unforgettable Experience
Few international entertainers have been at the top of the charts as long as as Usher has, and fewer companies still know how to reach out and interact with their audience like American Express. This latest "American Express Unstaged" event is sure to be one of the most talked about live performances of the year, but the only way to know for sure- and the only way for cardmembers to receive exclusive discounts and promotions- is to watch the performance live on Monday, June 11th at 4:00 PM ET / 1: PM PT at www.youtube.com.UsherVEVO.