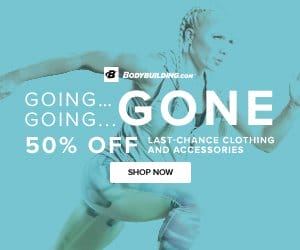 You're only fooling yourself if you think the same old affiliate links your site visitors have seen for months are going to magically start generating revenue for you. Consider instead refreshing your landing page with these April Fools' Day rebates via the FlexOffers.com network!
---
Whether trying to lose weight or build muscle, BodyBuilding.com is the place that your patrons can turn to for the top-quality vitamins, supplements, and accessories needed to achieve their health goals. This store's inventory is filled with items from the brands consumers already know and trust, such as Optimum Nutrition and MuscleTech, making it easier than you may think to convert clicks.
Buy One Get One 50% Off On Hundreds of Products at Bodybuilding.com! Bundle and Save!
---
Your mischievous audience members will be overjoyed this April Fools' Day when they give their friends and family members a handful of the deceptively sweet BeanBoozled jelly beans sold at JellyBelly.com. These tricky treats may look as if they're birthday cake or peach-flavored, but actually resemble dirty dishwater, barf, and other horrendous tastes. Classic.
Shop The Jelly Belly Spring Sale – Buy One Tangerine or Spring Mix Jelly Beans Carrot Bag and Get One FREE! Offer ends 4/21/19. Click Here!
---
Despite what their namesake may sound like, Motley Fool is actually a serious resource for investment advice and stock trading. For over two decades, they have helped everyday people take control of their financial future and work towards building real wealth that can sustain them through retirement- and your readers could be next.
Motley Fool Stock Advisor: Join for just $99 a year!
---
The whimsical décor sold by the MacKenzie-Childs affiliate program features stylish pieces that wouldn't look out of place tumbling through the looking glass with The Cheshire Cat and his Wonderland cohorts. Adding grace anywhere they're placed, these strikingly-patterned furnishings and ceramics are sure to become instant talking points at tea parties for years to come.
Bounce into Spring and add imaginative Easter decor to your home with timeless treasures. Shop MacKenzie-Childs' Easter Collection now.
---
Dark blue pinstriped suits may be the epitome of timeless men's fashion, but there's more fun to be had for individuals who dress up in fluorescent jackets patterned with palm trees or the entire Super Mario Bros. videogame roster. At opposuits.com, fashionistas will be able to make a strong statement with garments that are sure to get people talking on April Fools' Day, prom, or any other time they want to be seen.
---
Select CBD offers all-natural oils and tinctures that help regulate a whole host of important bodily functions, including the ability to cope with chronic pain. These award-winning products are made from hemp and tested to ensure they meet the highest quality standards, while not containing any THC.
100% Hemp-Derived CBD & Essential Oil Products At SelectCBD.com. Shop Now.
---
Bargain hunters who don't want to pay full MSRP for consumer goods won't have to when they shop dailysale.com. Instead, they'll be privy to a selection of name-brand laptops, jewelry, and other items at clearance prices that are only good for 24 hours. Don't miss out on promoting these deals!
DailySale.com is the only place to get the best deals on all the products you love up to 50-90% off retail. Fresh deals daily.
---
Capitalize on these and other engaging April Fools' Day rebates on your site through FlexOffers.com today!