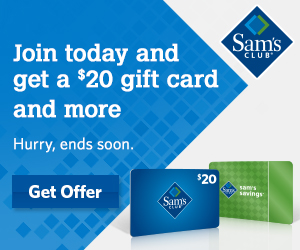 It's Baby Month at Sam's Club, and the warehouse club is celebrating the occasion with discounts on essentials for growing families. Whether potty training or preparing their home for a new arrival, your readers will love these deals from the Sam's Club affiliate program on the FlexOffers.com network!  
---
---
Whether having a boy or girl, there are a few items that your audience members can stock up on before their due date that are both essential and gender neutral. At SamsClub.com, parents can purchase plenty of diapers in a wide variety of sizes from the brands they trust the most. Nutritious formula is also stocked, as are baby bottles, cases of baby food, and electric breast pumps for parents going the natural route.
Even when it comes to playtime, there are gender-neutral toys sold through this outlet that can be appreciated by young girls or boys. Sam's Club features numerous colorful learning toys that are designed to capture the imagination of young minds, including building blocks and engaging activity centers. With such a robust inventory, parents, grandparents, and other well-wishers will have plenty of baby shower gifts to choose from.
---
---
 Your web traffic won't be cranky when they explore the values on products for nap time also made available at SamsClub.com. Safe and sturdy cribs from a number of top manufacturers are sold through this storefront, in colors that coordinate with nurseries for either little boys or little girls. While parents can adorn these cribs as they please, purchasing a neutral color is a smart investment in case of any décor changes or surprise baby gender swaps before they're born. Buy a crib on sale now, and there's no need to fret over markups later.
Speaking of savings opportunities, Sam's Club has made it even easier to get the goods they need on the cheap by organizing an entire section of their website filled with products that ship for FREE. With as many wipes as a baby can go through in a month, your page visitors will be glad they were delivered to their doorstep at no extra charge. The same goes for select packages of formula, musical mobiles, and literally hundreds of other items. Every penny saved when parenting is cherished, particularly when you know there are years of diaper changes still ahead.
---
---
Don't make baby steps to boost conversions on your website; promote these and other discounts from the Sam's Club affiliate program via FlexOffers.com today!