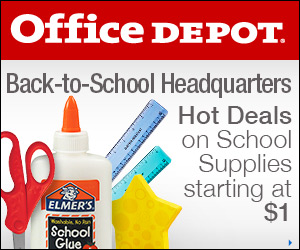 Back to School week continues at FlexOffers.com with a series of discounts on essential goods that students will need to make the grade next semester. Help your website get high marks with these back to school supply sale promotions available on the FlexOffers.com network!
---
This titan of school supplies is gearing up for the inevitable retail rush that's right around the corner, and so should you. At OfficeDepot.com, parents can find essentials like pencils, notebooks, and lots more for as low as a dollar.
Save on School! Shop DOLLAR DEALS on Sharpie, Expo and more!
---
A staple of back-to-school shopping season (pun intended), the Staples affiliate program makes getting students prepped for their classes an affordable affair. Extra discounts are even available when you purchase a backpack to throw them all in. That was easy.
25% off School Supplies when you buy a backpack with coupon code 65639 at Staples.com!
---
Sam's Club, the popular wholesale discount club retailer, is a boon each fall for school supplies. In addition to the obvious reams of paper and packs of pens they've on sale, everything needed to prepare bag lunches can also be bought here.
Great Savings on Child Care & School Supplies at Sam's Club
---
Target.com is currently featuring impressive discounts on goods for the classroom, as well as dorm room items that every undergrad should have. Even on a work-study budget, this selection of décor is finance-friendly and trendy.
Back to School Daily Deal: Extra 10% off Storage and Closet Organization. Valid 7/15 only
---
The summer price breaks at Kohl's present a great opportunity for families to save on name brand school supplies. Further savings are available still in the Clearance section at Kohls.com.
Print this pass for an extra 15% off in store and online with promo code BEACH15. Valid 7/15-7/23.
---
Coupon clippers already frequent Groupon.com on a regular basis to get the best local deals in their neighborhood. If they're quick enough, your site visitors may find reduced priced supplies, tutoring sessions, or one last thrill before class begins.
Extra 20% OFF with code: SALE3
---
You don't have to be an economics major to appreciate these and other deals available to promote on your site via FlexOffers.com!