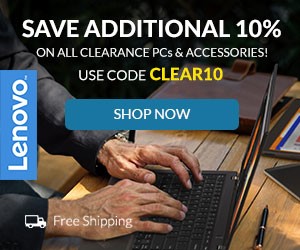 The right tech tools can definitely give students an edge in the classroom, making these deals particularly helpful for parents who want to help their kids get ahead academically.
Don't miss your chance to promote these back-to-school tech discounts on your site via FlexOffers.com today!
---
The laptops available to order through the Lenovo USA affiliate program are as powerful as they are both durable and affordable, making them ideal for students from elementary school to the graduate level. Gamers who want to unwind after long study sessions will certainly be able to do so through some of the customizable gaming laptops on sale here.
Black Fri in July steal! 15″ IdeaPad 330S laptop 81D6000YUS with AMD E2, 500 GB HDD now just $237.49 ! Use code SAV5XTRA
---
Students with an entrepreneurial spirit can turn to the services offered at bfscapital.com to take their revolutionary small business idea to the next level. With the financial support that can be obtained through this advertiser, your readers may be a few clicks away from creating the next The Facebook.
BFS Capital Business Loans: Apply For A Free No Obligation Consultation.
---
The humane electronic repellant devices obtainable from the Good Life® Pest Bird Control Products are great for keeping territorial birds away from children waiting at their bus stop before the school day begins. The site also sells visual scare devices that mimic the intimidating stare of predators, such as coyotes, gators, and hawks, which should keep more than a few birds off of people's lawns.
Protect Your Property With The Guardian G2 Propane Scare Cannon: Safe, Strong, & Easy to use.
---
Tech-centric students will be amazed by the selection of name brand components that they can purchase from newegg.com to build their very own PC from scratch. Should they need to replace any individual computer parts throughout the semester or be inclined to build a few virtual currency mining rigs to earn some spare cash on the side, this trusted storefront is the way to go.
$150 OFF Dell G5 15 Gaming 5587 15.6″ 4K IPS Intel i7-8750H GeForceGTX1060 16GB Mem 512GB SSD 1TB HDD Win10 Home Gaming Laptop – $1,499.99 at Newegg.com, ends 7/18
---
Your friendly neighborhood discount store's online presence is as inviting as its brick-and-mortar locations and also filled with markdowns for back-to-school season that both parents and teachers will appreciate. From iPads and Android tablets to noise-canceling headphones for extended periods of dorm room peace, Target.com always hits the spot.
Our best back-to-school prices are right here. Valid 7/15-7/21.
---
The moment a college student among your audience loses their backpack on campus, they'll be glad to have ordered and attached a Tile Bluetooth tracker to their belongings via the links on your landing page. Using Tile's free smartphone app, they'll then be able to find their bag quickly and get back to cramming for their next big exam.
---
Help your patrons (and bottom line) make the grade by marketing these back-to-school tech savings now on the FlexOffers.com network!