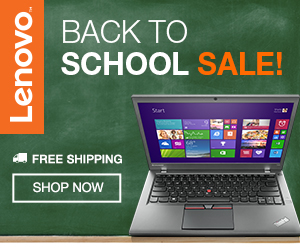 The first day of school is drawing nigh, which means now is the time for students to begin procuring the tools they need to enjoy a successful school year. Grant your page viewers access to discounts on all of their classroom needs by promoting the following back to school essentials now available on the FlexOffers network today!
---
Homework and school-related tasks are becoming increasingly more digital, making it nearly impossible for students without a personal tablet, laptop, or computer to keep up with their peers. Thankfully, Lenovo USA's massive inventory enables scholars to choose from an assortment of PCs and tablets that perfectly complement their workload. Lenovo USA computers also deliver unbridled afterschool fun through its streaming and gaming performance.
Go back to school in style with IdeaPad Yoga 11S. FREE SHIPPING!
---
Students across the country are gearing up to go back to school in style but parents often neglect their need for fashionable attire, subsequently embarrassing their precious pupil with each trip to the school. Now your site visitors can upgrade their wardrobe during Nordstrom.com's Glam-Up Days by purchasing clothing from top brands like CHANEL, DKNY, Gucci, and more. Kids may not ever want their mom or dad to step out of the car while being dropped off or picked up at school but at minimum, parents can bolster their aesthetic appeal when they shop at Nordstrom.com.
Glam-Up Days are coming! Join us at your favorite NORDSTROM store July 19-Aug 4 during Aniversary Sale for our beauty extravaganza, including free samples, tips and tutorials, free gifts with purchase and tons of beauty exclusives.
---
If your web traffic is in search of school uniforms, then you'll certainly want to market the Macys.com affiliate program on your landing page. At Macys.com, shoppers can filter their search options by brand, color, size, and gender to find outfits that run parallel to their respective school's wardrobe requirements. For a limited time, customers can receive up to 60% off school uniforms that help them adhere to school guidelines, whilst expressing their individuality through a variety of silhouettes and fabrics.
Special: 60% off School Uniforms. Shop now at Macys.com! Valid 7/7 through 7/14
---
A themed backpack often uncovers similar interests and perennially pave the way for new friendships. Through the Burlington affiliate program, the parents among your audience can ease their school-age child's transition from home, to school through its selection of backpacks that feature their favorite movie and/or character. Currently, at Burlington.com, students can find backpack bundles that come equipped with a matching, insulated lunch bag.
Kids Backpack Bundles from $12.99 at Burlington! Ends 8/3/19. Limited Supply. Shop Now!
---
Through the Orgain affiliate program, your patrons can send their tiny tyke to school with snacks that fuel them and prevent them from crashing in the classroom, such as its Organic Kids O-Bar. While Orgain's Organic Kids O-Bars are made from whole grain and contain 40%-50% less sugar than leading wholegrain bars, they're teeming with flavor and guaranteed to establish itself among any kid's favorite treat.
Orgain: Free Shaker All Orders A $9.99 Value *No Code Needed
---
School supply lists are seemingly longer with each passing year but no matter how long the list becomes, your readers can rest assured that Office Depot and OfficeMax has them covered. Now at Office Depot and OfficeMax, shoppers can get up to 80% off its best-selling school supplies to ensure they never overextend themselves while securing items on their child's school supply lists.
Up To 80% Off Our Best-Selling School Supplies
---
Capitalize on these back to school essentials now available through FlexOffers.com!