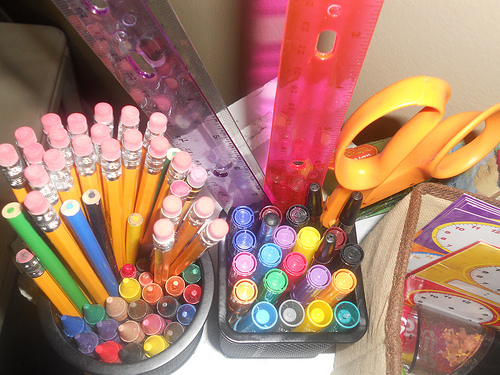 With the new school year beginning in just a matter of weeks for students across the country, now is the perfect time for them to gather the essential supplies they need to make the grade.
From kindergarteners to college seniors, there are many mainstay items that students of all ages shop for each year. FlexOffers.com is offering a number of sensational back-to-school sales from big advertisers, making it easy for families to stock up on supplies.
Just like lunch or science lab it pays to arrive early, so take a look at these promotional deals available now on FlexOffers.com!
---
---
Style 101
Aside from academics, many students feel pressured to dress their best and impress their friends with the latest fashion trends at the start of the school year.
JCPenney is currently featuring online only savings of $10 off $50, $15 off $75, $20 off $100 and $50 off $200 on apparel, accessories & footwear, or savings of 10% off select jewelry & other categories with code SAVESHC. Large national retailers like Macys.com and Target.com are also offering incredible discounts on clothing for boys and girls, as are Sears and Kohl's. The sales at these retailers go beyond individual fashions from top brands to include polos, khakis, and pleated skirts for those students required to wear uniforms.
Students wishing to walk down the halls with a little more swagger in their step can shop popular retailers MyHabit, Perry Ellis, Garage Clothing, or Choies.com for choice apparel selections and new seasonal trends. No matter which one of these retailers you opt to offer on your site, your audience members will be able to confidently carry on in class knowing they look cool.
Supplies in Demand
Even if they're dressed to the nines, students will look rather foolish asking others for basic accessories in the classroom. Though it should be common practice to have pens, pencils, paper, and notebooks on hand at all times, this embarrassing lapse in responsibility can be seen at even the highest levels of education.
To help keep students stocked up and on point, the Walmart.com, OfficeMax, FineStationery.com, and Poppin affiliate programs are promoting great deals on school supplies. Even specialty retailers Under Armour and CartoonNetworkShop.com are getting in on the back-to-school action this year with savings on performance backpacks for students and student athletes. 
Stay Connected
More so now than ever before, students are growing up alongside technology that far supersedes anything available to their parents decades ago.
Families who want to ensure their youngest and brightest have the latest personal electronics to give them an edge in school will likely love to shop the Best Buy and Toshiba- Toshibadirect.com affiliate programs. GameStop, Inc. is also promoting sales on tablets, laptops, and PC accessories, plus an inventory filled with the latest video games for students to unwind after intense study sessions.
Get to Class!
Whether purchasing popular character-themed clothing and supplies for younger students or a laptop to help make test prep a breeze in high school and college, there are many back-to-school savings opportunities available to promote to your web visitors today. The only way these deals will have no effect on improving the potential positive performance of students, or your own site, is if you don't promote them at all- so get to it!