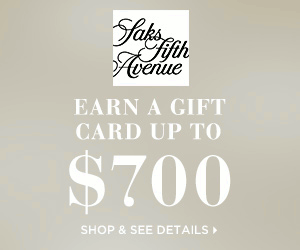 As classes are almost back in session again, it's the ideal time to fill your landing page with enticing deals on essentials that parents will be purchasing for their kids.
Capitalize on these back to school season sales now available to promote via FlexOffers.com!
---
Students who want to save up to 70% off new designer outfits and shoes for school can do so through the Saks Fifth Avenue affiliate program. They've the labels that trendsetters love, and currently at prices affordable enough for your readers to justify even just a few garments to update their wardrobe.
It's Now or Never! Final Sale! Up to 70% Off Vast Selections for Women and Men! Valid Online and in Stores! Shop Now!
---
The suite of cleaning tools available from PCVARK Advanced Mac Cleaner prove their worth the second they're installed. Users can get rid of clunky junk, manage their files for each class, and keep their system secure to prevent harmful security breaches. Who wouldn't want that kind of utility at their fingertips?
Advanced Mac Cleaner: App designed to keep your Mac smooth, fast, and error free.
---
Students who are already noticing that their PC is lagging will want to improve performance before classes begin using Driver Updater. The latest official drivers can be downloaded in a single click, which may prevent frequent system crashes in the future.
Limited Time Only: Receive $69.96 Off Driver Updater!
---
Advanced System Care
Whether on a Windows or Mac system, popup ads are a constant nuisance that need to be dealt with immediately. Your audience members who download the software offered through the Advanced System Care affiliate program can do just that, and at a reasonable value.
Special Discounted Rate of $39.95. Includes FREE McAfee Internet Security.
---
Elf emmit
The stress of studying for tests may be overwhelming for some individuals, but not those who use the ELF emmit digital metronome. This device can help improve concentration and the quality of the wearer's sleep, which are both invaluable for students throughout the semester.
Elf emmit – Improve focus, sleep, meditation, learning processes, & combat stress
---
Timelessly stylish, Kipling bags provide essential functionality to students who always find themselves with their hands full between classes. As these chic accessories are available in a variety of colors and designs, your patrons are sure to find one that suits their taste perfectly.
Flash Sale! Save over 55% on Sale styles starting at $24.99 + FREE Shipping
---
Folders, pencils, lunchboxes, calculators, and essentially everything else on students' supply lists can be bought through the Wal-Mart.com USA, LLC affiliate program. The everyday values that customers have come to expect from this retail giant make them a favorite among bargain hunters throughout the school year.
Back to School! Save big on classroom essentials.
---
Make the most of these and other enticing back to school season sales on the FlexOffers.com network today!