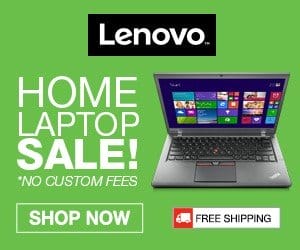 Successfully completing school assignments with outdated electronics can be a painstakingly sluggish process. Now moms and dads can improve their young scholar's efficiency through renowned tech brands at markdown prices. Grant parents the opportunity to help their child reach new academic heights this school year through these back to school tech discounts now available through the FlexOffers network!
---
While Lenovo USA is known for its laptops and PCs its inventory is also comprised of a variety of plug-n-play accessories such as the ThinkBook wireless media mouse. The ThinkBook wireless media mouse features a sleep ergonomic design and strategically placed media buttons that allow users to enhance their productivity and complete tasks with ease.
Up to 68% Off Early Back to School Deals on PCs, Accessories & More! While Supplies Last.
---
No home workstation is complete with out the ability to bring a digital assignment from the computer screen to the palm of a student's hand. Thankfully, HP.com has over 20 color printers that provide the same quality as their local business center. HPs printers also come equipped with wireless and Bluetooth connectivity, allowing kids to print off school-related assignments without fumbling around with cumbersome cords and wires.

Shop Back to School Bundles! Our best sellers sold together to help you save even more!

---
Through the Samsung affiliate program, your page viewers will gain access to even greater multitasking power. Samsung now offers the Galaxy S6 10.5" tablet with Wi-Fi S pen. The Galaxy S6 tablet is an ultra-slim, 2-in-1 that performs like a laptop whilst possessing the mobility of a tablet. Its keyboard, trackpad, and S pen makes it possible for pupils and professors to sign docs, take notes, markup papers, and even take pictures remotely.
Bundle and save 20% on back to school essentials.
---
The Razer Online Store affiliate program grants your site visitors the tools to work hard and play even harder. Razer Online Store's laptops deliver the requisite power to simultaneously support one's gaming and academic endeavors. The new Razer Blade Pro 17 contains a 10th gen Intel® Core™ i7-10875H processor with a base clock speed of 2.3GHz. Its processor is powerful enough to take on the latest gaming titles, and of course any school assignment an instructor may have in mind.
Back to School Deals: Get equipped for the reopening of school with Razer gear that empowers you to work hard, play harder, and stay ahead of the game
---
While there are a bevy of brands selling workstations and PCs, TheTechRepublic.com concluded that over 80% of polled enterprises use Microsoft Office applications. At Microsoft.com, the technophiles among your audience can interface with the business world and various institutions throughout the realm of academia when they subscribe to Microsoft Office plan. Microsoft Office includes premium applications such as Word, Excel, PowerPoint, and more.
Save up to $250 on Select Lenovo Flex 14s, Starting at $599.99/$769.99! Offer valid 7/18-8/1!
---
The presence of ambient music in the backdrop has been known to improve the concentration level of young intellectuals. By way of the Bose.com US affiliate program, your patrons can purchase the Bose Portable Home Speaker. The Bose Portable Home Speaker is durable, water-resistant and lasts up to 12 hours on a single charge. For a limited time, students can save $50 on the Bose Portable Home Speaker and play their favorite tunes on a high-fidelity speaker while they finish their schoolwork.
Save $50 on Portable Home Speaker
---
When math becomes a little more challenging than addition and subtraction, a calculator can certainly come in handy. Through the Canon affiliate program, your readers can purchase calculators that perfectly suit beginner, intermediate, and expert level arithmetic. Whether in search of scientific, basic, or printing calculators, Canon features a myriad of fast and durable models certified to provide students with accuracy and ease of use at a discounted rate.
Save an extra 10% on Canon Certified Refurbished cameras, lenses & camcorders!
---
Capitalize on these back to school tech discounts through the FlexOffers.com network!