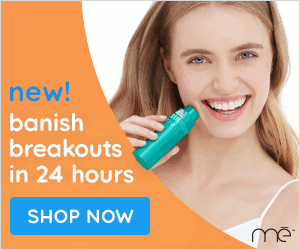 Now that school is back in session, chances are students are dealing with the embarrassment that comes with having unattractive skin. If a massive pimple is causing your site visitors stress, they need only go back to school with Me Power skincare solutions to look their absolute best.
Help save your site visitors' social life by promoting these engaging deals from the Me Power affiliate program via FlexOffers.com!
---
Get 10% off with coupon code FLEX10
First Blue LED Acne Spot Treatment.
Proven to Clear Skin in 24 Hours!
---
On top of all the other things that can cause anxiety in a student's day, protruding pimples are among the top of the list. By marketing the Me Power affiliate program on your landing page, you'll link parents and young adults to a device that utilizes blue LED lights to spot treat skin blemishes in a flash. Known simply as clear, its blue light penetrates the surface of one's skin to destroy the Propionibacterium acnes bacteria hidden below.
The clear also employs sonic vibrations and gentle warming to rid skin of pimples and other unsightly irritations. Safe and effective for all skin types, users can start seeing results within 24 hours. All it takes is a few minutes each day to eliminate pimples now and prevent future breakouts.
---
Breakthrough Anti-Acne Technology.
---
In addition to teenagers treating their unpleasant skin conditions, Me Power can also boost the confidence of college students who find themselves on their own for the first time. With no supervision and a tight budget, greasy food is usually a staple in the life of an undergrad, which leads to loads of pimples. Fortunately, clear can get rid of all that swelling and irritation for far less than a single visit to the dermatologist or a semester's worth of beauty products.
Parents who want to give their children in college the opportunity to expand their social horizons should add a clear to their next care package. Portable, rechargeable, and discreet, the grooming device is a clear winner.
---
---
Your landing page will look as attractive as your audience's skin when you promote these savings from the Me Power affiliate program through the FlexOffers.com network today!