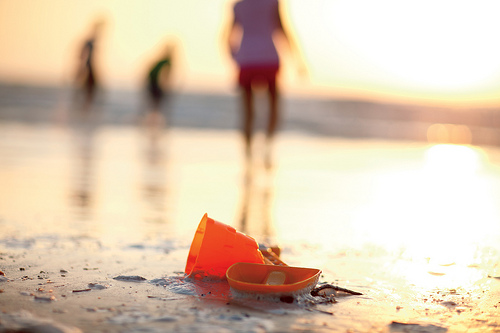 Temperatures are rising around the country, which means now is the perfect time to beat the heat and go on a great summer adventure with family and friends!
Whether you're exploring far-off locales or creating an equally unforgettable staycation at home, FlexOffers.com has a number of choice programs offering prime promotions this summer that are excellent options for anyone who wants to get away from it all.
With only a bit of foresight and a few cold drinks, you too will be able to escape the doldrums of summer with these great deals.
---
Backyard Oasis
Before heading out across the country or across the yard, would-be travelers need to be sure they've got all the supplies they need for a good time.
Loehmann's is currently offering a great discount on purchases of $100 or more, which is more than enough to snag a few designer swimsuits or new board shorts for men… and a nice breezy summer dress, new sandals, and an accessory or two. Actually, it might work best to not pack anything just yet and wait for your order from Loehmann's to arrive.
Now, once you've got a stunning new bikini to wear poolside you're going to need a few magazines to pass the time and soak up the sun. Magazines.com is currently running a Christmas in July sale that grants customers ridiculous discounts on some of the top magazines available on newsstands today. Maybe you'd like to catch up on the latest pop culture gossip, find a few healthy recipes, or figure out where you'd like to travel next; your options for quality reading material to relax and pass the time will feel practically endless.
Traveller's Tales
Once fully packed and armed with some key reading material, maybe you've realized lounging in your backyard isn't the most thrilling thing you can do with your summer. Maybe it's time you stop putting off that magical vacation you've always told yourself you'd go on… and just go.
Rather than negotiating reasons to stay at home, Priceline.com and their famous Priceline Negotiator can help you find a locale across the country or across the globe where you could make some new memories. Priceline's current Summer Hotel Sale grants customers an additional 5% discount off any Express Deal or Name Your Own Price® hotel stay.
Another excellent travel option is Booking.com, which offers hundreds of thousands of hotel booking options in countries worldwide. Their handpicked Smart Deals are outstanding values chosen internally to provide travelers with more bang for their buck at chosen hotels as compared to other nearby properties. That's booking sweet.
Better Safe than Sorry
Responsible travelers know that a vacation isn't over once you've arrived back home from your destination. To be absolutely sure that the shack selling local wares by the beach or a disgruntled bartender hasn't taken advantage of your generosity, it is imperative that you check your credit after a trip. TransUnion allows users to check their credit score for free, granting them peace of mind after possibly partying a bit too hard. It's quick, simple, and can prevent massive headaches in the future.
Adventure Time
Summer only comes once a year, as it always has, but that doesn't mean that the opportunities to explore and enjoy new things should be taken for granted. All it takes is a few prime program promotions for you- and your audience members- to beat the heat and prosper this summer!
*Featured image via Visit St. Pete/Clearwater on flickr.com.