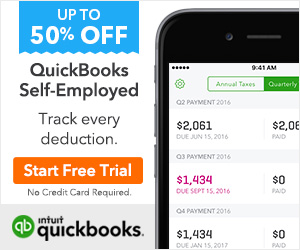 No matter your site visitors' entrepreneurial endeavor, they'll be hard-pressed to adhere to their budgetary plan  in any event they're lacking the requisite software to get the job done. Appropriate staffing levels, and the ability to acquire quality products and software services play a pivotal role in managing a successful operation. Thankfully, there are a myriad of tools from thousands of popular brands, guaranteed to help proprietors successfully maintain and eventually grow their small business.
Benefit from install and web-based software tools for small businesses via the FlexOffers network!
---
Overseeing the various responsibilities associated with entrepreneurship can be incredibly time consuming, especially without the proper tools and resources. Thankfully, through the Intuit Small Business affiliate program, small business owners will be presented with a bevy of options to help lighten their workload. The Intuit QuickBooks software provides proprietors with financial management tools such as accounting, bookkeeping services, payroll services, and payment processing to help small business owners to succeed and get more work done faster.
Save an average of over 30 hours per month with QuickBooks – Save up to 50%, when you buy now.
---
The Norton affiliate program provides small business owners access to AntiVirus protection for all their PCs. Having to rely on various software and online services to keep their business running efficiently comes with the risk of unintentionally downloading malicious spyware. With a Norton AntiVirus Plus subscription your web traffic will receive advanced real time threat protection to safeguard against malware. Customers will also be privy to secure cloud backup storage for important files to help keep their computers and sensitive information online safe.
Get a Norton AntiVirus Plus annual membership for only $19.99 your first year.
---
Through The Neat Company affiliate program, the entrepreneurs among your audience can manage their finances in minutes. Using the Neat mobile app, customers can digitally upload receipts with a guided workflow and stay informed of all their business. The Neat company also paves the way for businessmen and women to make informed decisions for their company through the provision of automated accounting reports like real time balance sheets, cash flow statements, and more. For a limited time, small business owners can make accounting simple by automating their bookkeeping with a free 15-day trial, which allows them to spend more time on things that matter – like growing their business.
Try Neat Premium Free for 15 Days. Automate your bookkeeping and spend more time on things that matter – like growing your business.
---
If your readers are searching for tools to create an online presence for their business, then they needn't look any further than the Microsoft affiliate program. At Microsoft.com, small business owners can choose from a plethora of top PC brands in addition to premium software like Microsoft 365 Business. Microsoft 365 is designed with advanced security and device management to help its users achieve more across work and life.
Save up to $400 on Surface Laptop 3! Offer valid through 6/30!
---
Small business owners can safely protect their internet traffic through the ExpressVPN affiliate program. Virtual private networks are encrypted tunnels that filters through internet traffic to protect from hackers and other cybersecurity threats. ExpressVPN customers can access over 160 VPN servers worldwide to facilitate a private and secure browsing experience on computers, tablets, and most mobile devices.
Protect Your Online Privacy with ExpressVPN
Exclusive offer: Save 49% & try ExpressVPN 100% risk-free!
---
The MyFax affiliate program provides your web traffic with the ability to send and receive faxes digitally. With this 100% paperless option business operators can easily send faxes through desktop software or its mobile app, which is compatible with IOS and Android. MyFax also enables customers to instantly access all sent and received data through its online storage. At myfax.com, customers can sign up for a free trial and pay only $10 a month for safe and secure faxing at the end of the 14-day trial.
Faxing Made Easy! Start Your Free Trial Today with MyFax!
---
Capitalize on these Tools for Small Businesses through the FlexOffers.com network!