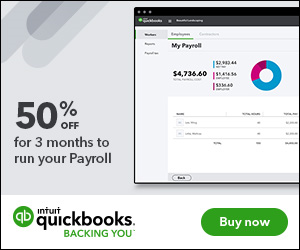 The responsibilities of an entrepreneur go far beyond choosing a company name or developing a product to sell. From tracking accounts receivable and accounts payables to adhering to a budgetary plan, there are many details that a small business owner needs to work on to monitor and improve their business's financial health. By promoting the Intuit Small Business affiliate program on your site, the businessmen and women among your audience will gain access to award-winning products and services that have revolutionized the way people manage their small business finances. As one of the most reputable accounting software products for small businesses in the nation, Intuit Small Business takes pride in its innovative features. Intuit Small Business offers a user-friendly site and exceptional customer service that helps customers run their businesses smoothly.
Don't miss your chance to promote these Intuit Small Business offerings at FlexOffers.com today!
---
QuickBooks Payroll is the #1 payroll provider for small businesses – Save 50% off for 3 months
Customers save an average of $600 annually by paying their employees with QuickBooks Payroll
Get back an average of 10 hours per month using QuickBooks Payroll
---
Managing a business payroll can be tricky and incredibly time-consuming. That's why Intuit Small Business designed Quickbooks Online Payroll. Quickbooks Online Payroll offers more than just payroll features to help entrepreneurs save time and easily manage their books. As one of the leading payroll providers for small businesses, Intuit Quickbooks Payroll offers full-service payroll with simple automated tax filing, expert support, HR tools, and employee benefits for small business owners to take care of their employees and their business. Customers who choose to join Intuit Quickbooks can set up their payroll in just a few steps by themselves or with expert help. Users can also obtain an instant payroll preview on payday with all their taxes figured in and provide same-day direct deposit for their employees.
QuickBooks Payroll is designed to file and pay business taxes while staying up to date with compliance. This program also updates and notifies business owners whenever tax payments are due, or state taxes change to keep their finances in compliance with federal guidelines. If customers are in search of further explanation about these changes or have concerns related to their payroll, Quickbooks Payroll experts work around the clock to provide customers with the highest level of service. Members of Quickbooks Payroll support team are knowledgeable about the platform's features and other resources customers may need to successfully run their business.
---
Set up and run your first payroll in as little as an hour
QuickBooks Payroll lets you view and approve employee hours and run payroll in less than 5 minutes
We help 1.4 million businesses do payroll and file taxes – Save 50% off for 3 months
---
While Intuit Quickbooks Payroll simplifies payroll for small businesses, it also offers employee services and a workforce portal for employees to access their timecards and review their paystubs online. Quickbooks Online Payroll offers a timesheet feature that allows employees to clock in and out from anywhere and update their hours automatically. This feature allows employees and business owners to keep track of working hours, resulting in a more accurate payroll.
By choosing Intuit Quickbooks Payroll services, customers will be privy to innovative tools guaranteed to help their business thrive. At quickbooks.intuit.com/payroll, customers can choose from three different payroll plans with the benefits that best suit their needs. No matter the plan, all Intuit QuickBooks Payroll plans are available in all 50 states and include fast unlimited payroll runs, automated tax forms, calculation of paychecks and taxes, and payroll reports. For a limited time, customers who subscribe to Intuit Quickbooks Payroll services can save 50% off their purchase for three months and experience a simplified way of completing all payroll-related tasks.
---
---

Capitalize on these and other enticing Intuit Small Business deals now available through the FlexOffers.com network!