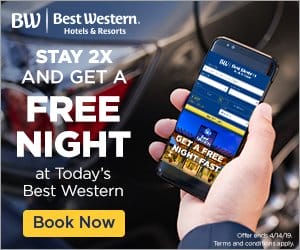 With flowers blooming and schoolchildren getting a few days off for spring break in the weeks ahead, there's no better time for your site visitors to book a Best Western room for spring break. No matter which one of their 4,000+ properties they choose to stay at, they know they can count on the incredible quality, service, and value that Best Western is known for.
Make the most of these Best Western spring break travel deals now available to promote via the FlexOffers.com network!
---
Best Western Hotels & Resorts – AARP Discounts – 5% to 15% Off
Best Western Hotels & Resorts – Government/Military – 10% Off or More
Best Western Rewards – 10% Off
---
Regardless of who they are or who they're traveling with, your page visitors can take advantage of substantial savings when they stay at a Best Western. There are actually over a dozen different hotel brands in the Best Western family, which means that whatever their taste or budget allows, travelers will get their money's worth.
As members of the AARP, retirees heading across the country to visit their grandkids can enjoy discounts of 5% to 15% when they decide to stay with Best Western. Similarly, government officials and military personnel taking a few precious days off to spend time with their loved ones can also look forward to rebates of 10% off or more. Even if they aren't a part of these particular groups, as members of the Best Western Rewards program, everyone else that visits your webpage qualifies for a savings of 10% when they reserve a room in the weeks ahead.
---
Special savings on hotel reservations worldwide 
---
Thanks to the affordable lodging options available through the Best Western affiliate program, your readers may be able to take the vacation of their dreams this spring break. Best Western owns resorts located everywhere from Brazil to Thailand, resulting in more than a few people being able to check unforgettable experiences off of their bucket list this season. Being able to experience everything from beachfront bliss to serene mountaintops can literally be a few clicks away for your audience through this advertiser's banners and links when you promote them on your landing page.
What if your loyal readership can't realistically take the time off to travel to an exotic locale this spring but still want to go on vacation, even if only for a weekend? Couples, students, and families with multiple kids and pets in tow can all go to bestwestern.com for markdowns on rooms just a few miles from home. As Best Western owns hotels all across the states, they're also the convenient choice for staycationers who just need a few days to recharge their batteries.
---
---
Don't miss out on these and other enticing Best Western spring break travel deals on FlexOffers.com today!