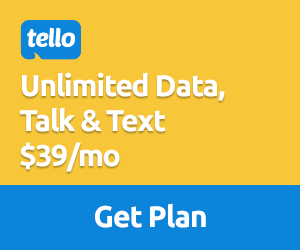 Pro Football's 100th season ends Sunday, giving fans one more chance to enjoy the thrill of the game plus a special musical performance and plenty of fun commercials. Help dedicated football fanatics across the country make final preparations to celebrate and cheer on their favorite team with these big game-winning discounts now available on the FlexOffers.com network today!
---
Just as many football enthusiasts get ready to watch the big game either from the stadium bleachers or their favorite recliner sofa, others may have scheduling conflict that prevent them from enjoying the biggest game of the year. Through the Tello Mobile affiliate program, your web traffic can benefit from great 4G LTE coverage and uninterrupted service that notifies them of every field-goal, interception, and touchdowns at an affordable price.
---
A good entertainment system is often considered an essential part of a pro football watch party. Samsung offers customers a variety of world class technology, suitable to help their guests feel as if they've teleported onto the field for a true game day experience. Emblematic of Samsung's superior quality is the 2019 Q60R QLED Smart 4K UHD TV, equipped with Quantum Dot technology for a more powerful performance and immersive experience in every touchdown.
---
Guaranteeing a comfortable atmosphere and adequate seating for guests to enjoy the game is another important detail to think about when hosting a watch party for the big game. Luckily, at macys.com, your readers can access Macy's Super Weekend and The Big Home sales for a chance to score an extra 25% discount on new home décor just in time before the game.
---
Whether or not your customers' team made it to the big game, true football fans can still wear their squad's colors as a show of support. For a limited time, shoppers can obtain free shipping when they spend $150 or more at nike.com and gear up with their favorite team's official merchandise.
---
If your page viewers are looking for a more relaxed everyday look that perfectly illustrates team spirit, then they needn't look any further than the Vineyard Vines affiliate program. Vineyard Vines offers a variety of products like polos, long-sleeve shirts, and ties that include logos from all 32 pro football teams. It's southern prep aesthetic coupled with professional football insignia help fans maintain a casual appearance while they represent their team.
---
While cooking enough food for a large group of football fans can be a bit challenging, your audience can bypass making multiple trips to the grocery store by doing their shopping online at Wal-mart.com US. Through the Wal-mart.com US affiliate program, your site visitors can rest assured they'll find everything they need for a well-rounded celebration at prices that won't break the bank. Currently at Wal-mart.com US, your patrons can receive next day shipping when they spend $35 or more during their game day prep.
---
Capitalize on these super game-winning discounts now available through the FlexOffers.com network!