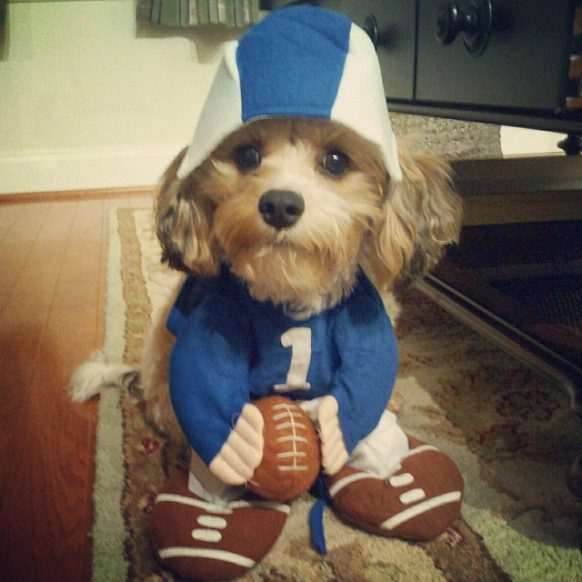 This Sunday will see some of the most gripping action on the gridiron, as well as those can't-miss parties that professional football fans look forward to all year. FlexOffers.com is calling an audible by offering discounts on all the items party hosts need to throw an unforgettable event, save for that seven-layer dip that won't last past the second quarter.
Play the field with these enticing deals just in time for the big game at FlexOffers.com!
---
---
Huge Plays in High Definition
For football fans, the big game is as good an excuse as any to upgrade their entertainment center.
Best Buy Co, Inc. is tempting customers with plenty of incredible discounts on televisions, giving home viewers as crisp a shot of the field (if not better) as those in attendance at the stadium. BestBuy.com is giving everyone the opportunity to save $300 on a Samsung 60″ Class (60″ Diag.) LED 1080p Smart HDTV, which is on sale at $1,199.99 with free delivery or free store pick up. That final feature is key for people who want to get their new televisions home as fast as possible to watch all of this weekend's extended sports coverage, and a smart move on Best Buy's part.
The Wal-Mart.com USA, LLC affiliate program is also poised to make key plays with home electronics this weekend. Known for their everyday low prices, you can currently save big on top TVs at Walmart.com. These price rollbacks on name brand HDTVs can help allocate a few specialty appliances and extra snacks into your party budget, which is a good thing as we all know, because you can never have too many tortilla chips at a party.
Red Zone Decor
Now that your readers have the big screens covered for Sunday's game, they'll need to outfit their den, living room, and persona with licensed gear to show support for their favorite team.
The Hat World / Lids affiliate program always makes available stylish headgear for showing team solidarity, no matter which sport or squad your patrons support. Accordingly, Lids.com is currently offering free shipping on $50 of New England Patriots NFC Champ gear.
While some partygoers may not like New England for Sunday's showdown, everyone can agree that having comfortable seats is essential for any football watch party. Through the Pier 1 Imports affiliate program, shoppers can procure comfortable and undeniably stylish furnishings, as well as unique décor that's sure to impress company coming over. You can grab everything in time for the game with free in-store pickup at Pier1.com.
To really put their party over-the-top, your audience members are likely to line their walls and snack stations with colorful props featuring their favorite team's colors. Fathead.com is touting 25% off new Fathead Super Bowl XLIX Party Packs with the promo code SBPARTY25 at checkout. Online party supply superstore Shindigz.com is promoting free shipping on orders of $99 or more with the code VSXECJ, which should just about cover all the centerpieces, streamers, and personalized decals one could ever want to throw the biggest football party of the year.
Speaking from experience, if you're going to have your get-together outdoors, be sure to moisturize with plenty of lotion to prevent dry skin and other subtle signs of aging. To aid in this regard, The Body Shop affiliate program has a Buy 3 Get 3 deal valid from 1/29-2/1 on their skincare and beauty products. If nothing else, your site visitors will have plenty of lotion on-hand for their friends when the team they've only been supporting for the past two weeks gets burned.
The pressure is on to make a game-winning play on your website, and each of these promotions can serve as the star player your roster needs. Market deals like these and more today on FlexOffers.com!