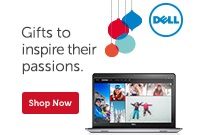 Empowering individual users worldwide, Dell has built their reputation on the reliability of the machines they've been manufacturing for decades. This holiday season, the Dell Home & Home Office affiliate program is touting promotions from the industry's top brands that make it difficult for customers to resist purchasing laptops for loved ones and a few upgrades for their own personal rigs.
With an inventory that encompasses the electronic needs of nearly everyone on their shopping list, your patrons will be pleased with these promotions just in time for Black Friday from Dell via FlexOffers.com
---
---
Lookin' Good
Black Friday is one of the best times of the year to purchase brand new televisions, but have you considered Dell Home & Home Office as a viable source for those flat screens?
Running from 11/23/14 through Thanksgiving, 11/27/14, bargain hunters can get $459.99 off and a $200 promo eGift card with the purchase of a LG 65″ LED TV 65LB5200 HDTV for just $989.99, plus 5% back in rewards when purchased through Dell Advantage loyalty and free shipping. That's nearly $700 in added value to an already incredible unit, so those interested should take advantage of it immediately.
LG is also featuring 43% off the 49-Inch LED TV 49LB5550 HDTV with a free Smart Blu-ray Player BP340 for just $449 (free shipping and 5% back in rewards if purchased with Dell Advantage Loyalty included). A brand new 49 inch HDTV with a Blu-ray player for under $500 is a steal that anyone still dealing with flickering tubes in their old set should most definitely pick up.
Unsung Hero
The multinational powerhouse whose smartphones have created a schism between themselves and loyal Apple customers, Samsung is also selling a few massive screens this holiday season through Dell Home & Home Office.
Who could pass up 43% off the Samsung 55″ LED Smart UN55H6350 HDTV for just $797.99 with free shipping and 5% back in rewards if purchased with Dell Advantage Loyalty? The only people I could think of are those that may finally have the chance to save big on that 3D TV they've always wanted. Through 12/2/14, shoppers are privy to 47% off the Samsung 55 Inch LED Smart TV UN55H7150 3D HDTV with 3D glasses (2pcs) for just $997.99. As with their other unit, free shipping and 5% back in rewards are available for those who purchase via Dell Advantage Loyalty.
Clear as Crystal
Boasting some of the sharpest visual displays of any televisions on the market today, the Sharp Aquos line combines value with vibrancy. Dark colors are richer, bright colors seem to pop off the screen, and Dell is granting 36% off the Sharp 60 Inch Smart LED TV- LC60LE660U AQUOS HDTV (with free shipping) for just $797.99.
The only thing that all of the aforementioned televisions could use some improvement in is their audio output, but Dell.com/home has your site visitors covered. Through 12/2/14, shoppers can get 40% off the Sony SRS-X7 – Wireless Portable Speaker for just $178 in addition to free shipping. Using Bluetooth technology, anyone can stream powerful sound to this sleek yet powerful speaker from their television, smartphone, or other compatible device. At this price, it serves as a practical gift that people will actually use and appreciate.
With the myriad of Black Friday offers on the web this week, it can sometimes prove difficult to know a good deal when you see one. Thankfully, with the Dell Home & Home Office affiliate program, you know that you'll always find discounts that are one step ahead of the competition.