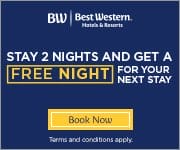 Fall is here and it won't be long before holidaymakers commence gallivanting around the globe in hopes of seeing their winter vacation dreams come to life. Whether visiting family or attempting to escape cooler temps in favor of warm-weather destinations, vacationers will assuredly find hotels that perfectly suit their travel agenda through the Best Western affiliate program. By securing lodging at BestWestern.com, guests will be privy to over 70 years of superior hospitality experience that grants them exceptional value and modern amenities during the winter holidays and beyond. Don't miss your chance to promote these blissful Best Western holiday discounts on your landing page via the FlexOffers.com network today! 
---
Register now! Best Western Rewards® members who register & stay two nights between Sep 16 & Nov 17, 2019, at any Best Western® branded hotel in the US, Canada, or the Caribbean gets a Free Night the next stay.
---
It's not unusual for hotel costs to rise during the holiday months, but through the Best Western affiliate program, your site visitors can lock in affordable rates wherever their travels may take them. Featuring over 16 unique brands and over 4,000 properties in nearly 100 countries, Best Western offers accommodations befitting for travelers from all walks of life. Each brand name delivers unique character and flair whilst staying true to Best Western's commitment to customer service. Best Western is renowned for achieving customer satisfaction, which subsequently increases the prospect of return business and brand loyalty.
While holiday travel plans come in all sizes, Best Western has U.S. and international properties guaranteed to enhance their family trip or romantic retreat. If the holiday adventurers among your audience are navigating about North America this winter to visit family, they'll be afforded an opportunity to reserve rooms at prices even the most budget-conscious consumer can appreciate. Love birds traveling abroad can also take advantage of fresh new Best Western hotel and resort offers across Europe and receive up to 15%-30% off when they book at least 21 days prior to their trip.
---
---
As a result of its supreme service and attention to detail, Best Western is no stranger to receiving accolades that underscore its feats in the realm of hospitality. In 2019 Best Western was named No. 1 in guest satisfaction among upscale hotel chains. Best Western Plus and Best Western were also recognized by Business Travel News as the No. 1 upper-midscale and midscale hotel for two consecutive years. Best Western's elevated style and comfort span nearly a century, and its relative ease and convenience are certainly deserving of consideration for forthcoming prestigious honors.
Guest satisfaction is vital to Best Western's ability to remain head and shoulders above its competitors and since 2013, at least 65% of its properties have earned TripAdvisor's Certificate of Excellence. Many of Best Western's sterling reviews stem from its willingness to accommodate its visitors by allowing them to travel with whoever they desire. Emblematic of Best Western's willingness to adjust to travelers' needs is its 1,600 pet-friendly locations. Recognizing the holidays just aren't the same for pet parents without their cuddly companion, Best Western has dedicated dog trails, waste facilities, and recommendations on parks, stores, and restaurants that ensure their pet's unbridled enjoyment for the duration of their holiday excursion. Regardless of whether your readers own a cat, dog, bird, monkey, snake, or other pet types under 80 pounds – they'll be permitted to engage in holiday festivities alongside their respective families with prior approval from their choice Best Western property.
---

---
Capitalize on these and other Best Western discounts now available to market through the FlexOffers.com network!