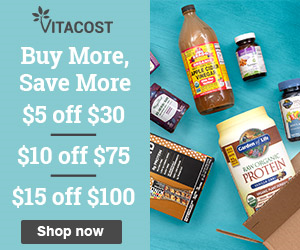 Arbor Day was initially dedicated to public tree-planting but now, the holiday is observed through a multitude of celebrations such as caring for and climbing trees, as well as learning the importance of trees. Thanks to Arbor Day literature and activities, many have pledged to be better stewards of their environment by nurturing Mother Nature and reducing their global footprint.
Help provide your page visitors with the requisite tools to simultaneously save the earth and money by promoting these blooming Arbor Day bargains now available on the FlexOffers network.
---
If engaging in Arbor Day festivities is in the cards for your web traffic, then you'll certainly want to promote the Vitacost affiliate program on your site. At Vitacost.com, shoppers can peruse vitamins and supplements, such as its Vitacost Ultra Energy capsules, comprised of a stimulant-free, herbal energy blend. Vitacost Ultra Energy Capsules enhance healthy circulation and stamina, which delivers the necessary fuel to facilitate a fun-filled day of planting, climbing, and maintaining trees minus the obligatory burnout.
Save Up to 50% on All Your Health and Wellness Essentials!
---
After partaking in customary Arbor Day adventures, your site visitors will assuredly be in search of an area that promotes rest and relaxation whilst communing with friends and family. Thankfully, Kohl's inventory includes over 800 outdoor patio chairs that promote peace and tranquility. Through Kohls.com's intuitive design Arbor Day celebrators can filter seating options by material, brand, and chair type to find seating options that allow them to reflect on the work they've already done and the work they plan to do.
Get $10 Kohl's Cash for Every $50 Spent
---
By promoting the Chewy.com affiliate program on your landing page, pet parents can get in on the Arbor Day revelry by gifting their cat an On2Pets Luxury Cat Tree. The On2Pets Luxury Cat Tree offers cats a unique blend of aesthetic appeal and functionality as its design blends well with modern furniture, while its realistic materials inspire safety and comfort for their cuddly kitten. Currently, at Chewy.com, pet owners can save up to 25 percent off select Frisco Cat Trees and give their cat the ultimate outdoor climbing experience – indoors.
Save 25% off select Frisco Cat Trees!
---
Over 12,500 sheets of paper can be made from just one tree but over 200 billion sheets of paper are consumed by U.S. companies per year via fax. Fortunately, MyFax offers business owners and operators the option to send and receive faxes by laptop or through its free mobile app supported by iOS and Android platforms. By registering for a 30-day free trial, business professionals can receive up to 200 pages, send up to 100 pages, and will be permitted to continue their quest to minimize their global footprint for just $10 a month after their 30-day free trial.
---
Through the Karmaloop affiliate program, your patrons will gain entry to a massive collection of streetwear, sneakers, and accessories. While Karmaloop possesses on-trend styles for fashion enthusiasts, their layer hoodies by Meta Threads aren't just stylish – they're also environmentally friendly. Meta Threads hoodies feature eco-friendly ink, that reduces waste and emissions while producing more vibrant and longer-lasting colors than traditional ink.
Get up to 75% off sales items at Karmaloop! Shop now!
---
Recognizing that plastic can potentially sterilize trees because of its non-biodegradable compounds, Sunski has been hard at work to reduce the probability of such an occurrence. Utilizing recycled plastic, Sunski has created a line of fashionable shades that evoke consumer confidence while making the world a better place for trees. For a limited time, your readers can purchase eyewear from the first brand to make sunglasses from recycled plastic for 35 percent off regular price.
The First Sunglasses Made From Recycled Plastic Are Here. Get Them For 35%Off!
---
Market these blooming Arbor Day bargains on your landing page via FlexOffers.com today!