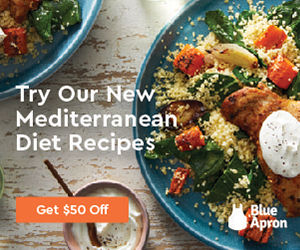 Blue Apron, the popular meal kit delivery service, is a modern culinary marvel that can help cooks of any skill level create tasty dishes at home. Using the fresh ingredients and easy-to-follow recipes included in each box, your audience will be able to quickly change the opinions of others when it comes to their kitchen skills while saving both time and money.
Don't miss your opportunity to promote these enticing offers available from the Blue Apron affiliate program on your site via FlexOffers.com today!
---
Blue Apron: $50 Off! ($25 Off Each Week)
Blue Apron: 5 Meals Free With Your First 2 Orders! (April Only)
Blue Apron – Give the Gift of Cooking
---
Each week, Blue Apron sends a variety of chef-designed recipes and ingredients right to your readers' doors. These ingredients include the seasonal vegetables, high-quality proteins free of antibiotics or hormones, and even the regional spice combinations needed to prepare a home-cooked meal FROM SCRATCH. As easy (and unhealthy) as it is for friends and family members to essentially live on preservative-rich fast food, it won't take long for these meals to become tasty staples that they'll look forward to actually making in their own kitchen.
With a Blue Apron meal waiting for them at home, your site visitors can save considerable time and money otherwise spent at their local grocery store buying items they very well know they shouldn't be. Starting at around just $8.99 per fresh home-cooked meal, these kits also help reduce food waste by only including the ingredients in the proper proportions that will be used that day. Customers' online accounts even feature community-specific instructions on how to best recycle the refrigerated packaging their food is sent in.
---
---
Blue Apron meal kits go a long way in impressing more than just amateur chefs surprised at how well they can actually cook with proper guidance and good ingredients. Families with fussy kids will be glad to know that they can personalize their menus to account for food allergies and preferences while still eating healthy.
Couples with fewer mouths to feed can instead order 2-Person meal plans to fit their budget or consider staying on a Family plan in order to prep food for lunch the following day. They'll be the envy of their office's break room, and still, save tons of money as compared to how much it costs them to eat out each day.
---
Blue Apron + Airbnb Partnership
Blue Apron – Learn New Recipes
Blue Apron – Original Recipes Weekly
---
With no commitment and no shortage of delicious new recipes in sight, there's no reason that your readers won't want to join Blue Apron. Make the most of these Blue Apron affiliate program links now available on the FlexOffers.com network!
---