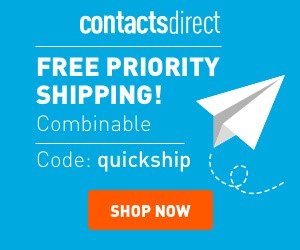 Fashion trends tend to change with the seasons, and the cost associated with keeping pace with the latest style progressions can be panic-inducing.
Grant your page viewers access to modernized clothing that enables them to hit the reset button on their antiquated apparel by promoting these brand-new wardrobe bargains now available on the FlexOffers network today!
---
While there are varying degrees of visual impairment, a dearth of depth perception or blurred vision can leave bargain hunters powerless to identify on-trend attire at discount prices. Thankfully, ContactsDirect facilitates improved vision for consumers across the country by offering savings of its own on daily, weekly, and monthly contact lenses from over 40 different brands. For a limited time, Contacts Direct subscribers will receive free priority shipping on their next order by entering coupon code QUICKSHIP upon checkout.
Free Priority Shipping on your contact lens order. An $11 Value! Enter code QUICKSHIP and select priority shipping at checkout. No exclusions. (Combinable with insurance)
---
If your site visitors are in search of season appropriate clothing for the entire family then you'll certainly want to promote the Bloomingdale's affiliate program on your landing page. Currently, at Bloomingdales.com shoppers can update their threads through the "Big Brown Bag" sale which offers customers an extra 20 percent off select sale and almost all clearance items for total savings up to 70 percent off.
Shop the Big Brown Bag sale at Bloomingdale's.com! Take an EXTRA 20% off select sale and almost all clearance items for a total savings up to 70% off. Discount applied in bag! Offer valid Jan 17th through Jan 21st.
---
Through The Kooples affiliate program, your web traffic can drape themselves in French streetwear for men and women that fuses neutral and vibrant color patterns to give each piece a vintage, yet modern spirit. The Kooples' collections are constantly evolving as they've deviated from the standard two traditional collections a year to 12, providing style gurus with new fashion inspiration every month.
The Kooples Sale on Sale! Extra 25% Off Winter 18. No code needed. Valid 1/17 thru 1/27.
---
Pure Collection (US) offers sensibly priced and expertly crafted cashmere garments guaranteed to make its customers feel special and look terrific. At US.Purecollection.com fashionistas can peruse sumptuous signature cashmere designs that permit them to comfortably transition into every season. Emblematic of its comfort and affordability is it's classic "Cowl Neck" sweater sold in 11 captivating colors for 75 percent off regular price.
You can now get up to 75% off Plus Free Shipping & Returns Over $150 in the Pure Collection Sale!
---
By promoting the Sunski affiliate program on your site, your patrons won't only be granted access to radically styled frames, they'll also be afforded an opportunity to do their part in ridding the planet of pollution. Sunski has developed a brilliant process which turns recycled plastic into beautifully designed polarized sunglasses available to be customized by head sizes, face shape, and lens types.
Radical Shades for Radical Humans. Sunski Polarized Sunglasses, 35% Off. Shop Now.
---
Whether the sneaker enthusiasts among your audience are in search of casual and/or sport-specific shoes, they can rest assured that they'll find affordable footwear suitable to their unique needs through NIKE's massive inventory. Now at NIKE.com, NIKE+ members can save up to 40 percent off on select shoes such as the Air Jordan 5 Retro and complement their favorite outfit at a price point even the most cost-conscious consumer will appreciate.
Up to 40% off select styles at Nike.com. Enjoy free shipping and returns with Nike+ membership. No code required.
---
Up to 40% off select styles at Nike.com. Enjoy free shipping and returns with Nike+ membership. No code required.