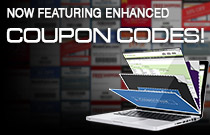 The team at FlexOffers.com continues to refine the affiliate marketing experience with the re-launch of our popular Coupon Codes feature. Publishers will now be able to login to their account and easily download in CSV content all valid coupon codes for their approved advertisers.
---
---
This information is updated twice daily, giving publishers the most current and viable coupon codes for their patrons. Coupon Codes can also be downloaded in CSV format in order to better implement them on your site. Our third recent tech rollout and the first major one for our Coupon section, our Coupon Codes and all other enhancements are FREE!
There are plenty of other additional Coupon content enhancements in the works, including additional feeds and ways to view and pull said content. Check back in regularly at FlexOffers.com for future announcements!
Publisher Feedback
Enhanced Coupon Codes, FlexRev-$hare, and other upgrades to the FlexOffers platform lately have stemmed from publisher feedback, so we'd love to hear from you.
Is there anything specific YOU would like to see in the Coupon section? If so, let us know!
Our team is hard at work developing all aspects of our Coupon features in the month of May, so any and all input is welcome and encouraged! Simply send an email to [email protected], and we'll do our best to incorporate your suggestions into future upgrades made at FlexOffers.com!