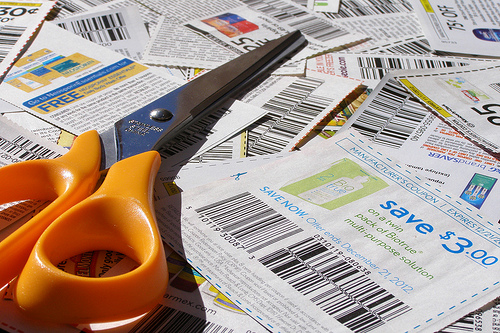 Always striving to improve our platform and publishers' performance possibilities, FlexOffers.com is pleased to announce the launch of the new Coupon Feed functionality on our site. A simple concept with incredible marketing potential, our Coupon Feed can give you access to a whole new method of finding the deals that work best for your audience- take a look!
---
---
Identifying Savings
The coupons available via the FlexOffers Coupon Feed do indeed differ from the large selection of text links and banners currently offered through our site.
Rather than just retrieving one of seemingly countless promotions from our database advocating a selected advertiser, these coupons give shoppers direct savings on the products they love. The most seemingly effective text link placed on your site only becomes a viable option if the recognizable advertiser is able to strike a chord with your readers.
By using the Coupon Feed, the virtual real estate on your site will be filled with items offering incentives for making purchases- an attractive prospect for you and your web traffic alike.
Marketing Magic
Industry leading advertisers and publishers already know the importance of using coupons as part of their promotional arsenal- and so should you.
The very act of using a coupon gives retail shoppers the illusion of control or receiving a groundbreaking deal all while giving you more actual sales. While they may save a few dollars on a particular item, the difference will be made up on shipping prices or the price of the qualifying purchase needed to activate the discount.
Consider how many times you've personally taken advantage of a "Buy One, Get One ½ Off" retail promotion only because of the added savings. Would you have purchased those items in the first place had they not been on sale? Wouldn't you like to grant that same feeling of instant gratification to your web viewers?
The FlexOffers Coupon Feed gives you the ability to not just utilize these kinds of deals, but filter specific types that you think your site visitors will fawn over. Black Friday, Buy One / Get One, Deal of the Day/Week, Clearance, and other specific Promotion Types can be searched for and filtered with the FlexOffers Coupon Feed so you can get exactly what works best for you and your eager audience.
Quick Implementation
Now that you know what the Coupon Feed can do for you, actually finding and using it on FlexOffers.com is a breeze.
Once you log in to your account at Publisher.FlexOffers.com, all you need to do is click the Links tab near the top of the page and then select the Coupons tab under the familiar Get Links interface you've been using to generate sales on your site. Clicking on the advanced search option next to the Keyword search field gives you the ability to filter and pinpoint available coupons by Advertisers, Categories, and Promotion Types.
The Coupon Feed is also available on the application programming interface (https://services.flexoffers.com/webservices/coupons.asmx). To find your API key, simply click on the Links tab, then the Data Feeds tab, and select the Go to Web Services option under the Web Services section on the page.
(Coupon) Feed Me!
There are many ways to help improve your website's revenue potential through FlexOffers, the latest being our newly launched Coupon Feed. Numerous other features are currently in development to make publishers' experience on our site even more enjoyable (and potentially profitable), so check back often for the best affiliate marketing experience available on FlexOffers.com!