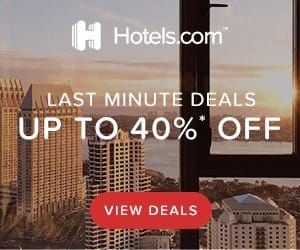 Cinco de Mayo is often celebrated by communing with friends and family, but the costs associated with planning holiday festivities can quickly spiral out of control. Provide your page viewers affordable options that convert their holiday hopes to reality when you promote these Cinco de Mayo savings now available on the FlexOffers network.
---
If a Cinco de Mayo excursion is in the cards for the globetrotters among your audience, then you'll certainly want to promote the Hotels.com affiliate program on your landing page. At Hotels.com travelers can choose between a multitude of independent and major hotel chains in over 200 countries. Currently, at Hotels.com tourists can receive $35 off stays upwards of $350 with coupon CHEERS35, allowing holidaymakers to save considerable cash on lodging that enhances their Cinco de Mayo experience.
US – Cinco de Mayo Sale – Save $35 off $350 with code CHEERS35. Book by 5/5, Travel by 6/30/19.
---
Whether galivanting the city streets or hosting a gathering for family and friends this Cinco de Mayo, Neiman Marcus Last Call offers fashion enthusiasts on-trend attire at prices even the most budget-conscious consumer can appreciate. For a limited time, shoppers can enjoy 55 percent off clearance and selected merchandise allowing them to procure pieces that facilitate their emergence from the crowd.
Cinco de Mayo Sale! Enjoy 55% off clearance and select merchandise at LastCall.com! Offer valid 5/4.
---
Planning a Cinco de Mayo themed celebration can prove to be costly but thankfully, Party City permits them to properly observe the holiday through a myriad decorations and party supplies at discount prices. At PartyCity.com, customer can peruse its themes and occasions tab and find pinatas, drinkware, and even sombreros up to 75 percent off to help them successfully organize the fiesta of their dreams.
Up to 75% off Cinco De Mayo Party Supplies
---
Cinco De Mayo plans can change on the fly, which often means your web traffic will undergo multiple outfit changes to better suit their environment. Fortunately, PacSun's inventory includes versatile pieces such as its Black Moto Stacked skinny jeans composed of comfortable stretch fabrics that are fashionable, functional, and adaptable to any holiday adventure. Now, at PacSun.com, fashionistas can get $5 off with no minimum price point, $15 off any $75 purchase, and $25 off a $100 purchase with coupon code CINCO19.
Cinco De Mayo: Get $5 off with no minimum spend, Get $15 off $75, Get $25 off $100 with code: CINCO19. Valid 5/2-5/5.
---
By promoting the Bodum affiliate program on your landing page, your patrons will have access to beautifully designed kitchen products that make life easier such as its BISTRO programmable coffee maker. The BISTRO programmable coffee maker can be set up to 24 hours in advance and features a stain-resistant heating plate that keeps coffee warm for up to 25 minutes. Even if Cinco de Mayo partygoers sleep through their alarm clock, they can still wake up to a fresh pot of coffee to get them through the day.
Cinco de Mayo – Up to 75% Off (US)
---
Through the SkinStore.com affiliate program, your readers will gain entry to a host of skincare, makeup and wellness options for men and women that address a wide range of skin concerns. Whether your site visitors are dealing with oily, sensitive, or dry skin, SkinStore.com's inventory is guaranteed to beautify their skin and inspire confidence during their Cinco de Mayo endeavors and beyond.
Cinco de Mayo Countdown drops 1% every 2 hours from 25% to 20% off! Use  code COUNTDOWN
---
Market these Cinco de Mayo savings on your landing page via FlexOffers.com today!