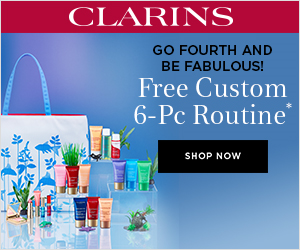 Whether preening to galivant about the city streets or lounging around in one's own living quarters, Clarins USA affords your audience the opportunity to "Make Life More Beautiful" through its make-up and skincare options. By purchasing products through the Clarins USA affiliate program links on your landing page, customers will also benefit from its bountiful bargains.
Don't miss your chance to promote these Clarins USA offerings at FlexOffers.com today!
---
Free 7-Piece Custom July 4th Gift, Including a Full-Sized Shimmer Body Oil and Tote, with any $100+ order. Plus, Get an Additional 3 Free Samples at Checkout. Up to $209 Value!
Clarins USA – New Extra Firming that visibly firms, lifts and fights wrinkles.
---
ClarinsUSA.com's inventory not only offers products that partition imperfections, but it's also comprised of products that aid customers in minimizing skin concerns such as wrinkles, dark spots, dry and oily skin, ultimately making your readers' lives more beautiful. Shoppers who seek protection from the summer's sinful sun rays whilst yearning for a more youthful appearance need to look no further than Clarins USA's Super Restorative Day SPF 20. Not only does this anti-aging cream arm customers with an effective means of defense against the sun's harmful UV rays, but it also enables them to turn back the hands of time with exclusive ingredients that restore elasticity to mature skin. Customers can also reduce the visibility of blemishes with Clarins USA's White Plus Pure Translucency Brightening Treatment Lotion to hydrate their skin and calm redness, subsequently providing the dazzling diaphanous glow they desire.
While Clarins USA's products are certainly worth full price, it's forthcoming Independence Day offerings permit budget-conscious patrons to "Go Fourth and Be Fabulous." Through ClarinsUSA.com, shoppers will be afforded the opportunity to customize their own seven-piece skincare regimen with any purchase of $100 or more. ClarinsUSA.com's Fourth of July savings includes Day Cream, Night Cream, Face mask, make-up and full-sized Shimmer Body Oil to make their customer's lives more beautiful.
---
Discover Double Serum, Most Powerful Age Control Concentrate Ever.
Clarins USA – Emotions through gloss, blush, lipstick, mascara and powder.
Shop Clarins to Build Your Own Travel Kit
---
Clarins USA's willingness to constantly enhance products through their open formula process known as "Permanent Innovation" allows staples of their brand to transcend time. Clarins USA's best-selling Double Serum is emblematic of their willingness to change or audit merchandise irrespective of its success. Since its inception in 1985, the iconic Double Serum's formula has been revisited seven times and has racked up more than 100 international press awards such as Very Best Essential Beauty Products in Elle magazine, Essence Best in Black Beauty and Star Beauty.
Clarins USA's global presence is growing and will continue to thrive with its tandem of superior products and bargains that make life more beautiful. Currently at ClarinsUSA.com, your page viewers can receive free shipping with any order $75 or more. Even dads can benefit from shopping at Clarins USA as their best-selling Anti-Fatigue, Eye Serum, Super Moisture Gel and Super Moisture Balm can all be purchased for a very affordable $34 each. Clarins USA also gives shoppers the opportunity to construct their very own travel beauty kit. Navigate the friendly skies with four of your favorite Clarins USA formulas and a Clarins USA travel pouch for a mere $32. With bargains like these, your viewers will want to make life more beautiful every day with the Clarins USA affiliate program.
---

---
Capitalize on these and other captivating Clarins USA discounts now available to market through the FlexOffers.com network!