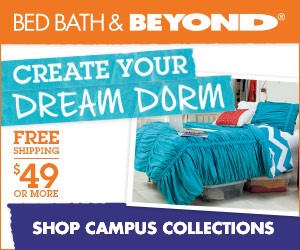 Attempting to navigate a new environment while separated from mom and dad can leave young college students seeking a return to their nests in search of comfort and familiarity. Thankfully there is a bevy of retailers that allows young scholars to adorn their dorm rooms with the requisite fixings and trimmings to successfully bridge the gap between home and school.
Provide your audience with the tools to thrive in the realm of academia by promoting these comforting dorm décor discounts on the FlexOffers.com network!
---
Bedding that provides aesthetic appeal and comfort is essential for young college students. Bed Bath & Beyond houses a variety of comforter sets, duvet covers, and decorative pillows capable of delivering the style and amenities they're accustomed to. Your readers can also take advantage of Bed Bath & Beyond's fitness options and save up to $50 on select Fitbit products to ward off the infamous "freshman 15."
Save up to $50 on Select Fitbit Products
---
It's not uncommon to see college students burning the midnight oil writing a research paper or cramming for a final exam. JCPenney offers coffee makers and espresso machines to give future graduates the fuel they need to fly through their assigned tasks. JCPenney's kitchen and dining inventory also includes mini-fridges, which allows "dorm-dwellers" to safely and securely partition their favorite food and beverage items from their roommates.
Free Shipping When You Spend $99 or More. Free Shipping to Store When You spend $25 or More
---
Lauded for its great selection of high-quality merchandise, service and every day low prices Wal-Mart.com US presents a myriad of dorm room essentials, including 48×32 rugs in 13 different colors to spruce up even the most barren college living quarters. Customers will also find discounts on televisions and video game consoles, which delivers the latest in entertainment during well-deserved downtime.
Score Back to College Savings at Walmart.com!
---
Expression is paramount for college residents and Society6 allows your readers to do just that with its posters and wall tapestries available in a wide range of colors, patterns and motivational quotes. Society6's wall art selection is teeming with statement pieces such as portraits of musicians past and present and quotes from F. Scott Fitzgerald to Tupac Shakur, which facilitates dialogue, unearths common interests and forges friendships.
Shop Now for 10% off Everything!
---
College text-books can be expensive, but fines stemming from lost or damaged books might even prevent one from being eligible to walk the stage on graduation day. Shelving, Inc.'s collection of wire shelving includes a wide range of sizes to fit any available floor space, giving students a secure space to store their books between classes. Shoppers will also have the luxury of choosing between black, white and chrome finishes when designing the perfect shelf to fit their dorm room.
40% Off Wire Shelving MSRP at Shelving.com
---
Closet space is often limited when living in a dormitory, but Dormify presents space-saving merchandise such as collapsible storage cube ottomans with shoe storage, swanky luggage trunks, and hanging cube organizers, allowing your patrons to maximize wardrobe space and the number of days they can dazzle the student body with their astonishing attire. Additionally, Dormify offers access to wall and table light options comprised of neon unicorn and flamingo desk lamps, providing your customers with unique options to illuminate their dorm room.
Free Shipping on Orders $75 or More!
---
Don't miss your opportunity to promote these dorm décor discounts on the FlexOffers.com network today!