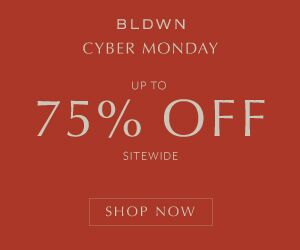 The culmination of Black Friday ultimately leaves consumers seeking additional savings that enable them to capitalize on the momentum that brought them near the end of their shopping lists. Allow the holiday shoppers among your audience to keep that same energy for at least one more day by promoting these compelling Cyber Monday deals now available on the FlexOffers network!
---
Fashion is constantly evolving making it increasingly more difficult to keep pace with the latest styles. Through the BLDWN affiliate program, fashionistas can browse on-trend styles and updated classics suitable for any setting. Emblematic of its dual-purposed attire is its CORI shirt, capable of serving as a wardrobe staple thanks to its capacity to be dressed up or down whilst transcending seasons.
Save Up to 75% off site-wide when you take 40% off with code MONDAY19. Over 200 styles added to the sale.
---
Through the Talbots affiliate program, Cyber Monday shoppers can find women's clothing and apparel in a wide variety of cuts and prints guaranteed to be coveted by every woman. At Talbots.com, customers can filter 550 of its latest pieces by size, color, fabric, and more to either treat themselves or find the perfect gift for the holidays. Talbots also offers tees, blouses, and jackets that implore fashion gurus to layer garments during the winter months and showcase their unique sense of style.
New arrivals at Talbots! Layer upon layer of modern classic style — from head to mistletoe.
---
By promoting the SiriusXM affiliate program on your landing page, your web traffic will gain entry to over 300 channels, access to on-demand content, and on the app connected devices. Currently, at Care.SiriusXM.com, customers can activate a SiriusXM essential streaming subscription for one month free of charge. Members will also receive a one month outside the car streaming for free.
Sirius XM Outside the Car Streaming 1 Month Free Trial! See Offer Details
---
Pets provide their caretakers with unconditional love and during BudgetPetWorld's Cyber Monday sale, pet parents will be afforded to opportunity to return the favor. BudgetPetWorld supplies a wide range of typically costly, pet care products from reputable brands at a discounted rate. BudgetPetWorld's products help pet owners safeguard their pets from fleas, ticks, heartworms, degenerative joint conditions, and more.
Shop BudgetPetWorld Cyber Monday Deals!
---
If your page viewers are still making travel arrangements for the holidays, there's still time for them to find discounts on domestic and international flights. For a limited time at CheapOair.com, holidaymakers can receive up to $40 off flight fees when they use coupon code CMONDAY40 upon checkout and commence planning the vacation of their dreams at an affordable rate.
Super Cyber Monday Deals! Get Up to $40 Off Our Fees on Flights by Using Promo Code CMONDAY40 Book Now!
---
It's not uncommon to pick up a few pounds during the cold weather months. Thankfully, Reebok offers footwear that will assuredly provide them with the motivation to make a fashionable return to the gym. During Reebok.com's Cyber Monday sale, purchasers can receive up to 50% off site-wide and begin their post-holiday exercise regimen in shoes that offer support and deliver enhanced comfort with every step.
Shop Reebok's Cyber Monday Sale and Receive 50% off Sitewide (Exclusions Apply)
---
Farm and homeowners can also get a taste of Cyber Monday deals through the Tractor Supply Affiliate program. From fences to tractor parts, tools, and hardware, Tractor Supply sells everything your users need to maintain their backyards or farms. For a limited time, your patrons can enjoy free UPS shipping plus a significant discount on truck deliveries at Tractor Supply and complete their DIY projects right on time before the holidays.
Free UPS Shipping + $50 Off Truck Delivery at Tractor Supply! Limited time offer | ends 12/6/15. Shop now!
---
While there are several health-related issues commonly associated with aging, health enthusiasts no longer have to be subject to symptoms related to their respective ailments. Stop Aging Now offers over 100 dietary supplements that address a myriad of health concerns that help your readers live longer lives. Now at StopAgingNow.com, your patrons can shop Stop Aging Now during black Friday and receive 50% off with coupon code BF50OFF.
Shop Stop Aging Now during Black Friday through Sunday and take 50% off any order using code BF50OFF Plus Free Shipping!!
---
Capitalize on these compelling Cyber Monday deals now available on your landing page via FlexOffers.com today!