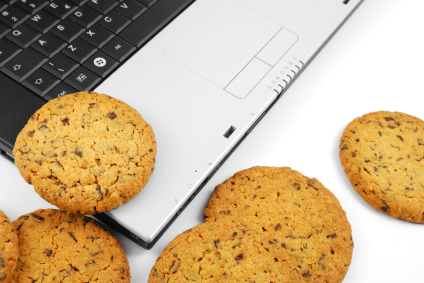 When you hear someone mention the term cookie stuffing, you probably think of delicious, creamy white filling.  That is assuming you like sweets; otherwise, you are left with thoughts of cavity-inducing sweetness that is almost unbearable. Fortunately (or unfortunately – depends on which side of the cookie you stand) the kind of cookie stuffing I'm referring to deals with the electronic type.
Cookie stuffing refers to a fraudulent online marketing technique used to receive credit or funds for illegitimate online sales. This type of practice is achieved when a user visits a cookie stuffing site and a third-party cookie (this would be the target affiliate website) is 'stuffed' into the user's computer without the user's knowledge. Once (and only if) the user visits the target website and completes a qualifying transaction, the cookie stuffer is then paid a commission for said transaction. Confused yet? Let's go back a bit.
Let's give our user a name; Joe User. Joe comes across a cookie stuffing site, but he's not aware of this and the practice does not hinder his web surfing experience or computer in any way. As soon as Joe comes to the page he is greeted by a pop-up window asking him to join the site's mailing list. He is not interested in joining, so he closes the pop-up window. Unbeknownst to Joe, the site has just flooded his computer with cookies. The deposited cookie is for Jimmy's Awesome Computer Shack.
Next time that Joe goes to Jimmy's Awesome Computer Shack website to purchase a new hard drive, the cookie stuffing website will receive credit for the purchase Joe User has just made. This is how cookie stuffing works. The reason why it's illegal it's because these cookies may also overwrite legitimate affiliate cookies. This in essence is stealing from legitimate affiliate members and forcing the merchant to pay commission for the sale. Note: If you're an affiliate marketer, this means you!
Cookie Stuffing is achieved in several ways; below you will find the most prominent practiced methods as found on Wikipedia.com:
As you can see, there are many ways this practice can be put into play. Fortunately, this type of practice is being monitored by the authorities as seen in the June of 2010 indictments of Shawn Hogan and Brian Dunning. An FBI investigation by the Cyber Crimes Department concluded that Hogan and Dunning had been committing wire fraud and criminal forfeiture. Both men had been generating hidden forced clicks on their sites as well as other sites not connected to either one of them.
It was estimated that Shawn Hogan earned approximately $15.5 million in commissions from eBay. Hogan was eBay's number one affiliate. Between 2006 and June 2007, Dunning (Kessler's Flying Circus) earned approximately $5.3 million in commissions from eBay. Dunning was eBay's number two affiliate. Those numbers are nothing to sneeze at! If convicted, both men can be looking at the following penalties:
Imprisonment of 20 years
Maximum fine of $250,000 or twice the gross gain/loss (whichever is greater)
3 years of supervised release
$100 special assessment (per count)
On June 24th, 2010, a grand jury indicted Hogan on charges of wire fraud and criminal forfeiture.  Hogan is presently being prosecuted, and is free on $100,000 bond. Brian Dunning was indicted and charged with defrauding Ebay.
Hopefully punishments like this will dissuade other perpetrators and allow the honest affiliates to earn a living the good ol' fashioned way. So take note and remember the old adage – crime doesn't pay!
[poll id="4″]