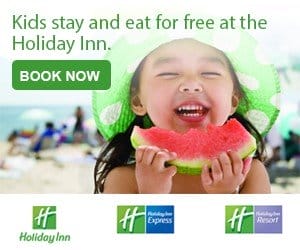 Getting children to spend meaningful time with their parents can become increasingly more difficult as they grow older. However, kids may be more inclined to spend quality time with their parents if they've scheduled activities that perfectly suit their unique personality. Help the moms and dads among your audience gain "cool points" with their kids through these cool Son and Daughter Day deals now available on the FlexOffers network today!
---
It's not uncommon for school-age children to suddenly become too hip for their parents. Now, mom and dad can bribe their way into their kids' heart by booking a hotel through the InterContinental Hotels Groups in Orlando, Florida. IHG.com features convenient, yet luxurious lodging just minutes away from Orlando's most popular theme parks. Its hotels are also centrally located to provide entertainment options guaranteed to deliver an exhilarating experience for sons and daughters across the country.
Where will you go next? Members save up to 15% in Orlando. Find trip ideas, hotel deals and more.
---
Parents oftentimes would rather see their kids do something more constructive with their time than play video games but once they get their hands on the Legion Gaming laptop by Lenovo USA they'll easily come to understand their child's predicament. For a limited time at Lenovo.com, shoppers can purchase the powerful Legion Gaming laptop for up to $700 off the regular price and experience unmatched gaming performance that kids and adults will assuredly enjoy.
Gaming Sale! Up to $700 off powerful Legion Gaming laptops starting at $902.49!
---
While cooking to commemorate National Son and Daughter Day is ideal, the time necessary to prepare a quality meal can detract from previously arranged bonding opportunities throughout the day. Thankfully, through the RealEats affiliate program, your site visitors can save on time and skip out on trips to the grocery store as each chef-prepared meal can be delivered directly to its subscribers' front door. RealEats' members will also optimize time with their children as its food-safe pouches and contents are capable of being prepared in just six minutes after being placed in boiling water.
Low-Calorie, 6-Minute Meals. No microwave, meal prep, or cleanup.
---
Whether your page viewers are into fishing, hunting, or camping, they'll find no shortage of appropriate outdoor equipment at Bass Pro Shops. Bass Pro Shops offers excursionists supreme service and products that help outdoor enthusiasts create new memories at prices the most budget-conscious consumer can appreciate. Currently, at BassPro.com, customers can save up to 50% off during its fall hunting classic and receive free shipping on orders $50-plus.
BPS Fall Hunting Classic save up to 50%, free shipping over $50
---
It's not always necessary for parents to partake in an activity with their child on National Son and Daughter Day. Sometimes, the opportunity to sit in the living room and share their thoughts with mom and dad is more than enough to make a kid feel special. By shopping at Ashley Homestore, your web traffic can engage in fruitful dialogue with their child in comfort when they peruse its sofa options that can save them up to 25% off plus an extra 10% off with coupon code SUNSHINE10.
Two Days Only! Save Up to 25% Off* + an Extra 10% Off* with code: SUNSHINE10 Shop Now! Valid 8/11-8/12.
---
With summer coming to an end, your readers can create new memories with their children while at sea. CruiseDirect offers reputable cruise lines renowned for delivering fun-filled adventures for the entire family at a discounted rate. Now, at CruiseDirect.com, your patrons can book a seven-night Caribbean Cruise from $399 on Royal Caribbean, and 50% off the second guest, while their children sail for free.
7 Night Caribbean Cruises from $339 on Royal Caribbean, only on Cruisedirect.com. 2nd Guest – 50% OFF, Plus Kids Sail FREE!
---
Capitalize on these cool Son and Daughter Day deals now available through FlexOffers.com!