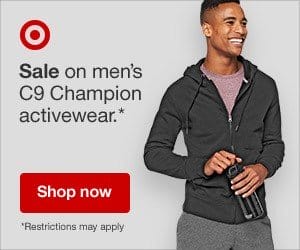 With temperatures dropping across the Northern Hemisphere, now is the time to begin replacing summer and spring clothing in favor of winter gear. Ensure your fashion aficionado's comfort during the winter months by promoting these cool-weather clothing bargains now available on the FlexOffers network today!
---
With winter on the horizon, many runners will neglect their outdoor cardio sessions and perhaps their entire workout in an attempt to stay warm. Thankfully, Target.com affords fitness enthusiasts an opportunity to peruse a variety of comfy pullovers from C9 Champion such as its long sleeve ¼ zip. The C9 Champion ¼ zip features duo dry technology and thumbholes to keep sleeves in place for maximum warmth.
Men's and Women's activewear under $25 Valid 10/06 – 11/02
---
If your site visitors are in search of cold weather accessories, then they needn't look any further than the Nordstrom Rack affiliate program. Nordstrom Rack's inventory is comprised of over 700 hats, scarves, gloves, and more to help successfully usher style gurus through the winter months. At NordstromRack.com, shoppers can narrow their search and quickly identify items that suit their needs through a multitude of options such as size, color, brand, and price.
Stay Warm with Nordstrom Rack's Sale on Women's Winter Accessories Now Up to 55% Off!
---
Winter is near and now is the best time for fashionistas to begin layering their gear through H&M (US). H&M (US) is comprised of garments that include a wide variety of vibrant colors and patterns capable of being combined for warmth and aesthetic appeal. H&M (US) fine-knit cardigan, delivers sheer elegance and comfort, especially when paired with its cotton tank tops. Both items provide a solid base for limitless layering and encourage style gurus to continue to showcase their individual style at prices that won't break the bank.
Basics from $9.99 at H&M! Winter days call for lots of layers. Craft endless outfit combinations with our versatile assortment of long sleeves, turtlenecks, sweatshirts and more.
---
By promoting the TJ Maxx affiliate program on your landing page, your web traffic will assuredly find overcoats and jackets from top brands that keep the entire family insulated from frigid temps. TJ Maxx.com has coats and jackets from reputable retailers at prices even the most budget-conscious consumer can appreciate. Its coats and jackets are also guaranteed to help purchasers adhere to their individual style, while simultaneously shielding them from harsh weather.
Save big on the Plus Coats and Jackets you need now at T.J.Maxx.
---
Dashing through the snow during the winter can be a soul-crushing experience but with a purchase of FitFlop's Skandi Waterproof ankle boots, your readers can at least make sure the sole of their shoe remains intact. The Skandi Waterproof ankle boot contains FitFlop's trademark Microwobbleboard comfort technology, which absorbs shock and diffuses underfoot pressure. Currently, at FitFlop, customers will receive 20% off boots listed in its new autumn and winter collection.
Enjoy 20% off Boots in FitFlop's New Autumn Winter Collection + Free Shipping w/Code FALL20
---
While its no secret that the pet parents among your audience care deeply for their furry friend, it's not uncommon for some to forget that their dog gets just as cold as they do during the winter. Fortunately, at Chewy.com, your patrons will find no shortage of dog clothes that provide their precious pup with additional warmth. For a limited time at Chewy.com, shoppers will receive up to 50% off hundreds of cold-weather styles that are equal parts fun and functional.
Winter Dog Clothing and Accessories Sale! Save up to 50% on Hundreds of Cold Weather Styles at Chewy!
---
Market these cool-weather clothing bargains on your landing page via FlexOffers.com today!