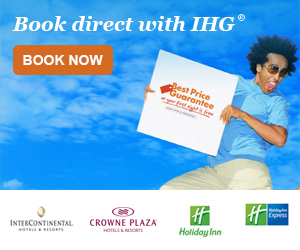 Gifting friends and family apparel, toys, and tech merchandise every holiday can become somewhat unfulfilling, especially when those purchases become outdated or even worse, damaged. By booking a surprise vacation stay for your loved ones through the InterContinental Hotels Group, you can avoid the monotony of annual stress brought on by holiday wish lists and grant them a bevy of enjoyable experiences that will never fade.
Don't miss your opportunity to create memorable holiday moments with the InterContinental Hotels Group!
---
Book Your Holiday Vacations NOW & Save up to 15% with Your Rate!
Save up to 15% on your Family's Getaway when you stay with Holiday Inn!
Give the gift of travel. Save at least 25% now until 11/30 when you book with IHG.
---
Rocking around the Christmas tree in the comfort of your own home has its benefits but if the holidaymaker in you has a hankering for adventure during the winter months, then you're in luck. At IHG.com, you can reserve lodging at any of its 5,000-plus properties in nearly 100 countries and save up to 15 percent off your holiday getaway. Instead of marveling at decorated evergreens during the winter, parents can book a suite in Orlando and grant their kids access to swaying palm trees warm weather and its premier theme parks located just one mile away from the nearest Holiday Inn.
Planning a romantic retreat for the holidays through IHG.com is also made easy through its intuitive web design which offers you an opportunity to soak up the sun in popular destinations such as the Bahamas, Maldives and the Cayman Islands and beyond. Couples might also want to consider a stay at the Holiday Inn Express & Suites in Kailua-Kona, Hawaii as its nearby attractions present innumerable outdoor adventures, incased in a serene backdrop guaranteed to create memorable holiday moments.
---
Become a Rewards Club Member and Enjoy our Lowest Rates!
Book early and save on a romantic getaway to Hawaii using Your Rate.
Visit Hong Kong! Book early and save up to 15% with Your Rate. The best deal, plus all the benefits you love when you book directly with IHG.
---
If you're in search of hotel accommodations, during the holidays, you'll experience incredible savings at IHG.com. You'll also be privy to additional discounts and benefits when you join the IHG Rewards Club. IHG Rewards Club members will be afforded amenities such as worldwide internet access during their stay at an IHG hotel, personal stay preferences that customize their hotel stays, and redeemable points that accumulate more rapidly when combined with cash. With points earned through the IHG Rewards Club, you can save up to 15 percent on your stay with points and receive seasonable discounts on the IHG Rewards Club catalog comprised items as wide ranging as tech to luxury clothing lines.
Through points earned during your family's Christmas excursion, IHG Rewards Club members can book a room at the Crowne Plaza Hong Kong Causeway Bay for 15 percent off and ring in the new year with a bang while watching Hong Kong's world-renowned firework celebration. With options like these prior to each holiday, IHG Rewards can easily become the gift that keeps giving. Its affordability and global reach allow even the most budget-conscious travelers to unlock a myriad of premier destinations that facilitate long-lasting memories at prices that won't break the bank.
---

---
Explore all the InterContinental Hotels Group's latest offerings at IHG.com!