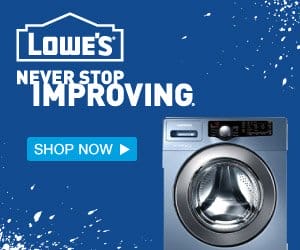 Wasting energy not only adversely affects our planet but it can also result in monetary loss. Find tools that enable conservationists to become more energy efficient by promoting these Cut Your Energy Cost Day deals now available on the FlexOffers network!
---
The average American family does roughly 8-10 loads of laundry each week and depending upon the type of washer and dryer your site visitors own, keeping clothes clean could drive energy costs. At Lowes.com, shoppers can peruse a variety of energy-efficient washers and dryers that help them complete their laundry in less time. Lowe's also sells dryers equipped with EcoBoost options that save energy by using less heat.
Save on Appliance Special Values!
---
Keeping a home warm and toasty during the winter months can prove costly, but at Bed Bath & Beyond, homeowners can insulate themselves from cool temps by purchasing the Google Nest Learning Third Generation Thermostat. The Google Nest Learning Third Generation Thermostat allows energy savers to remotely control temperatures in their homes via phone, tablet, or laptop. Google's digital thermostat also adapts to its users and programs itself to their unique preferences to save energy.
Purchase the Best-Selling Google Nest Third Generation Thermostat
---
If your audience members have yet to find the perfect energy plan for their home, then they needn't look any further than the Direct Energy affiliate program. Direct Energy supplies its subscribers with electricity, natural gas and, home protection plans that help them to bundle energy costs and keep their appliances in great shape. In addition to its residential energy plans, Direct Energy also has plans for business professionals that help them reduce their operating costs.
Direct Energy Offers Fixed-Rate Electricity for Your Home
---
Hard water is capable of effecting plumbing fixtures, clothing, and one's water bill. Thankfully, DiscountFilterStore.com offers a multitude of digital water softener systems such as the Grain Water Softener System by Tier1. By way of its piston proven seal and spacer technology, the Gain Water Softener System reduces sediment, herbicides, and pesticides to keep skin soft, laundry bright, and fixtures free from calcium buildup.
10% Off and Free Shipping on Any Order with code HARVEST10
---
Whether in search of outdoor or indoor lighting Lumens Light + Living houses a bevy of affordable lights that enable your web traffic to save some green on their power bill. Lumens.com features over 60 L.E.D lights guaranteed to brighten your patron's living space at an affordable rate. Currently, at Lumens.com, customers can receive a choice of a free gift with a qualifying purchase of $350 with coupon code LED.
Receive a choice of a free gift (up to $124 value) with qualifying $350 purchase. Use code: LED. Free shipping. Sale runs 1/17-2/6..
---
While Burlington possesses stylish curtains befitting for any room in the house its inventory is also comprised of energy-efficient blackout curtains that trap cool air during the summer and heat in the winter. For a limited time at Burlington.com energy-efficient individuals can purchase blackout curtain sets for $14.99 and minimize the prospect of losing thermal energy, while reducing their utility bills.
Energy Efficient & Blackout Curtain Sets from $14.99 at Burlington! Valid 1/5-2/1. Shop Now!
---
Market these Cut Your Energy Cost Day deals, now available through the FlexOffers.com network!