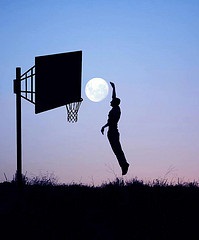 Dressing sharply is a necessity nowadays for athletes in the public eye who wish to create an aura of professionalism off the court. Post-game interviews and press conferences have become perfect opportunities for players to show off a stellar fashion sense that can create positive social media buzz from news outlets and style-savvy fans.
Whether trying to take their team to "the Big Dance" or actually going out dancing themselves, there are plenty of offers available to your audience members that can turn them into the stylish superstars they are. Check out some of the top-seeded promotions currently on FlexOffers.com!
---
---
All-Star Apparel
There is no excuse for trendsetters to look as if their outfit was just retrieved from a gym bag, especially when on camera.
The vintage-inspired pieces sold through the Siwy Denim affiliate program have been a hit since the company's inception nearly a decade ago. The tough, feminine, and authentic appearance of the high quality stretch denim pieces they sell gives the inventory longevity long after its initial purchase. Fashion-driven customers who regularly update their wardrobe will also love the clothing and footwear labels that can be purchased through the Shop The Shoe Box affiliate program.
A premier retail destination for national and international looks, the Pink Mascara affiliate program establishes rather than follows trends in women's clothing and is committed to maintaining a sharp focus on new and emerging designers. BlankNYC.com is also a great place to find designer denim at affordable price points that even rookies can handle. It should be mentioned that for the yoga gear one needs to stretch and prevent injury after the game once all the cameras are off, the Yoga-Clothing affiliate program is where it's at.
All five of these affiliate programs, Siwy Denim, Shop The Shoe Box, Pink Mascara, BlankNYC.com, and Yoga-Clothing, have a special limited-time promotion available only to FlexOffers publishers that grants 10% off your order with code: FLEX10 (ends: 4.15.14).
Exceptional Components
Quality is definitely the name of the game when it comes to anything a serious athlete ingests or applies topically, as a tiny irritation can throw off their concentration at the most inopportune times.
Those wanting to make healthy choices for healthy living have lots of options on discount vitamins through the Puritan's Pride affiliate program, which is featuring 15% off $100 Puritan's Pride brand plus free shipping when customers enter code: SPRING3 at checkout (valid 3/24-3/31/2014).
The Vitamin World affiliate program also exceeds at providing athletes with natural support, as the unique ingredients used to create their premium supplements are thoroughly tested to meet high quality standards. Shoppers can save $20 off orders of $125 or more at Vitaminworld.com (includes Free Shipping) when they enter code USAVE20 (valid 3/25-3/31/2014). Speaking of top quality, the personal care goods that can be found through the PerfectlyPure affiliate program are at 20% off (plus free shipping on orders of $50 or more) when the code UGLOW20 is entered at checkout.
Curating Comfort
Win or lose, there are few things athletes at any skill level enjoy more after a game than solemn relaxation time.
To ensure the hotel they're staying in has all the rejuvenating amenities one could desire, your site patrons can book their rooms through the InterContinental Hotels Group affiliate program. If they hurry, travelers can save 10-30% at Holiday Inn on their Spring Break vacation when they book early.
After running up and down the court or spending hours in constricting shoes at work, a comfortable pair of designer flats from the Lori's Shoes affiliate program is pretty hard to beat. With handbags, jewelry, and now even apparel sold through their virtual storefront, your web traffic will be wondering why you've not directed them there before, and they can currently enjoy free shipping with code: FREESHIP (no expiration).
Strategic Plays
Much like a champion basketball bracket, picking the right programs to promote can mean the difference between a series of upsets and the thrill of victory. Make the most of these amazing limited-time discounts and more today via FlexOffers.com!