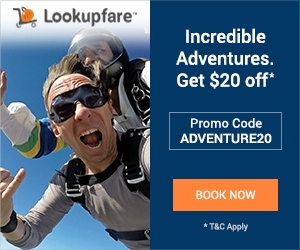 As cold as it has been these past few weeks, who wouldn't prefer seeing ice in their tropical drink by the sea rather than all over their walkway?
Help your readers think warm thoughts by promoting these early spring travel deals on your website via FlexOffers.com!
---
From Denver to Dubai, your page visitors can book low-cost flights and hotels for spring through the intuitive lookupfare.com platform with ease. If they can't wait that long or want to spend some time on the slopes, the company is also offering discounted rates on winter travel excursions they can book and take now.
---
The InterContinental Hotels Group offers luxury properties and reasonably priced rooms for rent in over 100 countries worldwide. Wherever the spirit of adventure takes your web traffic this spring, there's a very good chance that a high-quality IHG property will be available to stay in nearby.
Book early and save up to 15% with Your Rate. The best deal, plus all the benefits you love when you book directly at Holiday Inn Express.
---
Bargain hunters know they will get the best prices out of big brands when they purchase the eCODEs available through the Butterfly Bundles affiliate program. These codes offer sizable discounts on everything from the latest fashions to seasonal gourmet meals at restaurants that will make social media followers envious and potentially hangry.
Save 50-80% off on Dining, Entertainment, Travel and Retail!
---
The electronic dog training accessories sold by Good Life® Bark Control are essential for anyone who plans on traveling but doesn't want their rowdy pup keeping their neighbors up while they're gone. Humane and effective, these collars do not use harmful shocks to curb bad behavior in dogs, but vibrations and ultrasonic sounds instead.
It's National Train Your Dog Month! Take 40% Off OnGuard Handheld Trainer Using Code: TRAINING40
---
An alternative to traditional car rental services, Zipcar gives people the ability to rent rides around town for as long as they need it, be it for a few minutes or days. Vehicles of all sizes are part of the Zipcar fleet, giving users the flexibility to rent readily available vehicles based on their immediate needs, such as transporting an entire family around town for a sightseeing tour.
Zipcar Car Sharing. Find Zipcars In your city. Get $25 Free Driving. Join Today.
---
If the identifying ribbon that your readers have tied to their suitcases have already started to fray and fade, it's time to upgrade their luggage at ebags.com. There they'll be able to buy name brand bags in a range of modern styles to meet the needs of any crosstown commuter or globetrotter.
Up to 60% Off Samsonite Luggage!
---
Your patrons are sure to warm up to these early spring travel deals, now available on the FlexOffers.com network! Promote these enticing offers today!