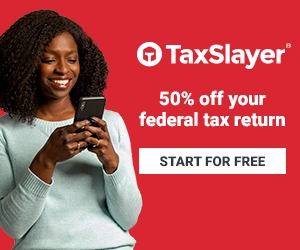 Tax Day is near and while some taxpayers may not be expecting a refund this year, they can still find discounts that provide them with financial relief they deserve. Grant your site visitors savings on financial applications and more by promoting these early tax prep deals now available on the FlexOffers network today!
---
By promoting the TaxSlayer affiliate program on your site, your page viewers can make visiting their local CPA a thing of the past and file their taxes from the comfort of their own home. TaxSlayer is 100% free for simple tax situations and guarantees accuracy and a maximum refund for every registered user. Adding to its legendary convenience is its versatility, which enables taxpayers to file from a variety of platforms such as their phone, tablet, laptop, or desktop computer.
Simply Free Tax Filing $0 Federal and $0 State 100% free for simple tax situations Maximum refund guaranteed 100% accuracy guaranteed
---
Lauded by reputable publications such as Forbes, The New York Times, and The Wall Street Journal, Credit Sesame | Non-Incent has earned its stripes by way of its convenience and relative ease. Credit Sesame | Non-Incent aids its users in their attempts to monitor their credit score through its monthly credit monitoring service. Customers can also receive personalized savings advice through Secure.CreditSesame.com to facilitate the proper allocation of new funds following their tax return.
Your Credit Score Matters. Do you know yours? Get Your Free Score Now at Credit Sesame.
---
Running a small business can be time consuming, but through Intuit Small Business, proprietors can shave a couple hours off their busy schedule through Intuit Small Business finance tools. At QuickBooks.Intuit.com, business professionals will gain access to plans that help them organize their operations. Whether in search of measures to better manage payroll, invoices, or taxes, Intuit Small Business ensures bookkeeping is done fast and accurately to afford small business owners an opportunity to spend more time with friends and family.
Save thousands on your quarterly and year-end taxes with QuickBooks Self-Employed. Buy now!
---
Keeping track of receipts for an entire calendar year is an unenviable task but when your web traffic scans their receipts with The Neat Company, they'll have no need to fret when tax time arrives. Scanning receipts through The Neat Company allows its subscribers to easily reconcile their accounts on a singular screen. It also suggests matches for each transaction which prevents a tremendous amount of angst during tax preparation.
Free Smart Organizing System & Neat Cloud services Trial with Scanner Purchase
---
If your patrons are in search of a reliable laptop to complete their taxes, then they needn't look any further than the Lenovo USA affiliate program. Lenovo's inventory is comprised of exceptionally designed machines that deliver smarter performance for all, such as the Lenovo 14" S940 laptop. The Lenovo S940 offers peace of mind in the form of facial recognition and biometric security, that protects e-filers from losing sensitive information to digital-crime-doers.
Got your tax refund and need a vacation? Plan your getaway today and save up to $525 with Travelocity.
---
While many taxpayers may opt to spend their tax refund dollars in close proximity to where they reside, the Travelocity affiliate program has travel discounts to help future jet setters plan the vacation of their dreams. Travelocity has a network of over 400 airlines and 1 million properties worldwide, permitting vacationers to travel anytime, anywhere at an affordable rate. Currently, at Travelocity.com, globetrotters can plan a much-needed getaway with friends and family and save up to $525.
Got your tax refund and need a vacation? Plan your getaway today and save up to $525 with Travelocity.
---
Exercising in the wrong pair of shoes can be every bit as taxing as Uncle Sam taking up permanent refuge in one's wallet. Thankfully, Reebok offers stylish footwear to usher gym enthusiasts through even the most grueling workouts. Emblematic of Reebok's comfort and style is the Furry Millennium shoe equipped with DMX cushioning and Pump technology that provides a locked-in feel at prices that won't break the bank. During Reebok's Tax Day sale, shoppers can save $40 off a $100 purchase.
Tax Day Offer! Save $40 off $100 purchase at Reebok
---
Market these early tax prep deals, now available through the FlexOffers.com network!