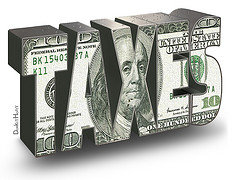 As the deadline for employers to mail out their employees' W-2 forms approaches on January 31st, some of your audience members may be eager to file their individual tax returns early just to get the bothersome chore done.
Many advertisers are aware of this initial influx of tax filers and are offering promotions to take advantage of the early rush. Publishers wanting to make the most of early tax prep deals should adjust their site accordingly, as the top ones can already be found on FlexOffers.com. 
---
---
Homeward Bound
The increasingly intuitive nature of tax preparation software has made it easier than ever for people to gather the confidence to file their own taxes online without the aid (or fee) of a tax professional.
Some of the biggest companies in the tax industry are certainly throwing their hat into the ring to get a portion of these early filers. The H&R Block At Home affiliate program is outright offering exclusive free online tax prep from H&R Block. The other big household name in the tax game, TurboTax, is promoting customers will get 100% accurate calculations and step-by-step guidance so they are confident their taxes are done right. Peace of mind and a piece of the pie- what more could you want?
Liberty Tax Service's online tax preparation service, eSmart Tax, promises to maximize your income tax refund and lets customers try eSmart Tax for FREE. Another viable option for filing taxes early is TaxACT, one of the critically acclaimed leaders of affordable online and downloadable tax preparation solutions for consumers and business owners. The TaxACT affiliate program allows your web traffic to prepare and e-file their IRS taxes FREE at TaxACT® with no restrictions– a truly tempting offer for anyone indeed.
If your site traffic tends to originate from the top of the North American continent, there are a number of tax advertisers specializing in helping Canadian consumers. H&R Block Canada is promoting their tax software with free audit assistance (a $75 value), while TurboTax Canada has a limited time offer where people can save 12% on TurboTax for tax year 2013.
Alternate Aid
Though some affiliate programs may not specialize in tax filing per se, they nonetheless offer deals that may prove invaluable to some of your site visitors.
Office supplies expert Office Depot has Tax Time deals, including one in which shoppers can save $10 instantly on Turbo Tax Deluxe and higher. Computer parts and consumer electronics superstore TigerDirect.com is advertising H&R Block Tax Software 13 Deluxe and Total Defense Premium Internet Security Bundle for $59.99 after $60 MIR, granting citizens money back even before taxes are even filed.
Those who may be in more dire straits with the IRS, like owing $10,000 or more, should seek out help from the 911 TAX RELIEF affiliate program. For a $0.00 down payment they can settle IRS tax debt now with a free consultation at 911taxrelief.com.
Increased Awareness
Even if you're not personally ready to file your taxes yet, there's a good chance many of the people that frequent your site are. By making it easy for people who are prepared to file their taxes to do so with these promotions from FlexOffers.com, you may be able to generate that extra bit of revenue to keep you warm before the spring thaw.