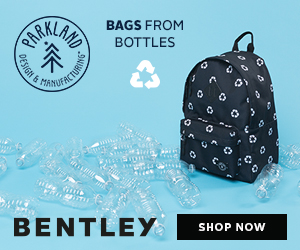 While Earth Day calls attention to environmentally-friendly practices like reducing, reusing, and recycling, you should consider updating your landing page with a few of the brand-new affiliate links curated below.
Capitalize on these enticing Earth Day 2018 markdowns obtainable via FlexOffers.com today!
---
Made from recycled plastic bottles, the Parkland backpacks and duffel bags sold at shopbentley.com are as stylish as they are functional and durable. At school, home, or the office, your patrons will be able to proudly show support for Mother Earth with one of these accessories slung over their shoulder.
Get 30% off all Parkland bags made from recycled plastic bottles with the promo code: EARTH30 at Shopbentley.com! (Valid 4/20-4/25)
---
America leads the world in food waste, dumping 60 million tons of produce alone annually. Your readers can help bring that percentage down this Earth Day by ordering the ready-to-cook meals available from the Blue Apron affiliate program. Each delivery includes fresh ingredients and easy instructions that can help even minimally experienced home cooks create meals that will result in clean plates all around the dinner table.
Blue Apron: 5 Meals Free With Your First 2 Orders! (April Only)
---
Leaders in ultrasonic pest control, Good Life® Pest Repellers devices can get rid of bugs eating away at your audience's lush gardens without the use of toxic chemicals or traps. This proven technology is also useful for keeping mice, birds, deer, and other critters bigger than ants and beetles at bay 24/7.
Exterminators are expensive and unreliable! Save time & money using the industry's strongest pest repeller products.
---
Those spending the day outdoors for Earth Day should consider downloading a few of the 75,000+ digital comic books available through the comiXology affiliate program to enjoy. New and classic issues from Marvel, DC, Image, Dark Horse, and other publishers can all be read via comiXology on practically every popular digital device currently on the market.
Save up to 66% OFF Dark Horse comics for Earth Day at comiXology.com! No code required at checkout (valid 4/17 – 4/23)
---
Thousands of designer sundresses (or jackets, depending on the weather) are currently in stock at shopspring.com alongside beauty products, chic home décor, and tech accessories that will get work done. Fashionistas looking to save some green will be thrilled with the 20% off sitewide discount available for first-time buyers via this outlet (exclusions apply).
First Time Users- Get 20% Off Sitewide! Exclusions Apply. Use Code SPRINGISHERE20!
---
IHG's reach goes beyond highly populated urban jungles, boasting 5,000+ properties globally located minutes from forests and many other breathtaking environments. Featuring 15-30% off select hotels during their Spring Flash Sale, now is the perfect time for your web traffic to book an InterContinental Hotels Group room and travel afar.
IHG Spring Flash Sale: 4/23-4/30, save 15-30% at select IHG hotels!
---
Refresh your website with these Earth Day 2018 markdowns, now on FlexOffers.com!