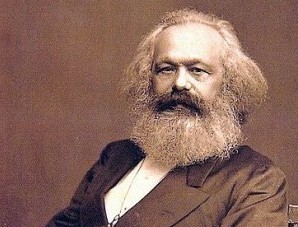 People love to customize their lives. Everything from our vehicles to our credit cards have a touch of our personality. As far as credit cards go, some issuing companies allow members to add their own images to their credit cards. Some people choose to use a picture of their loved ones, others choose their pets, while others – specifically people living in Chemnitz, East Germany – choose the Father of Communism, Karl Marx.
---
Staying True To The Fatherland
Over a third of Sparkasse Bank customers in Chemnitz chose to have Marx's likeness on their credit card, but there is a good reason for that. Before the Berlin Wall came down in 1989, Chemnitz was known as Karl-Marx-Stadt. The city was completely destroyed during World War II, but it was rebuilt as a model socialist city. During this time it wasn't unusual to see Marx's face emblazoned on the 100-Mark bills citizens used. To this day the city proudly displays a 7 foot statue of the esteemed comrade.
Giving People What They Want
History aside, what Sparkasse Bank's customer base is showing us is that if given the choice, people will personalize just about anything. Of course, this freedom to customize credit cards is nothing more than a marketing ploy by the credit card companies, but the point here is that it works! Some people see the graphics on their credit cards as an extension of themselves, so when they hand it to the store clerk, booth attendant, or waiter you bet they're expecting a positive response to what's recorded on the card.
Taking Cues From The Pros
Capital One is currently running television commercials that not only announce all the usual travel, cash back rewards, and free gas perks, but also the ability to customize the image on the credit card they offer. While it may seem like a somewhat silly perk, it is one that people seem to embrace. The icing on the cake, if you will.
Knowing this, affiliate marketers whose websites promote credit cards and their products would be wise to take Capital One's cue and use this customization to their advantage. So remember that while it may be a trite perk for some people, it's a fun extra to help your audience take their love for Hello Kitty to the next level.