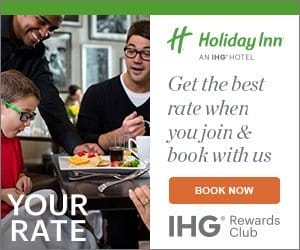 Acquiring merchandise to commemorate Easter can take a toll on one's budget, and holidaymakers skipping town to see family can spend exponentially more on travel accommodations.
Now, the jet setters among your audience can experience savings that afford them Easter joy and financial stability when you promote these Easter travel deals via the FlexOffers network today!
---
Returning home to see family for a momentous occasion such as Easter is ideal, but when the host's bedrooms have been claimed by other visiting family members, vacationers could end up incurring unexpected lodging expenses. Thankfully, the InterContinental Hotels Group has over 5,000 properties in nearly 100 countries, committed to delivering true hospitality at an affordable rate. Currently, at InterContinental Hotels Group, customers can save up to 15 percent on their spring getaway.
Save 15% on your Spring Getaway with Your Rate!
---
Whether planning a family trip or a romantic retreat, Orbitz provides your site visitors with exclusive discounts on hotels and vacation packages that permit them to save money and receive upgrades on flights, dining, rental cars, and more. By using coupon code SIGHTSEE150 upon checkout tourists will receive an extra $150 on flight and hotel booking which subsequently rids even the most cost-conscious client of budgetary restrictions during the Easter holiday.
Save an extra $150 on flight + hotel bookings at Orbitz with code SIGHTSEE150. 
---
The prospect of an Easter excursion is enough reason to be present, but fashion enthusiasts are guaranteed to explore avenues to show up and show out. Thankfully through the H&M (US) affiliate program, they'll be provided with the opportunity to stand out through its "OCCASIONWEAR" which features festive silhouettes in a myriad of vibrant, holiday-specific colors and patterns at prices that won't break the bank.
Hop on it! 30%, 20%, or 10% off + free shipping at H&M! Our spend more, save more event starts now at HM.com & in-store. Use code 3376 for: 30% off $200 + free shipping, 20% off $100 + free shipping, 10% off $50
---
If your patrons tend to experience bouts with anxiety at the sheer mention of traveling, then you'll certainly want to promote the Vitacost affiliate program on your site. Vitacost's inventory includes naturally effective, stress-reducing products such as its Mental Calm tablets by Rainbow Light. Rainbow Light's Mental Calm tablets feature active agents L-theanine and GABA, which minimize anxiety and tension without drowsiness or fatigue allowing travelers to successfully navigate the friendly skies and/or winding roads.
Get 12% OFF Rainbow Light, Neocell & Natural Vitality! Use promo code ALLRLN. Valid from 4/15/19 at 7 a.m. E.T to 4/22/19 at 7 a.m. E.T. While supplies last. Exclusions may apply.
---
Contact wearers occasionally become so comfortable with contact lenses that they forget to update their glasses, leading to an unceremonious return to their bulky eyewear. Fortunately, your page viewers can stack up on an annual supply of contact lenses and save up to $100 whilst ensuring they'll never avoidably endure an ill-timed depletion of contacts again.
Save up to $100 on an annual supply of contact lenses (combinable with insurance)
---
Keeping toddlers occupied while in transit can prove to be difficult but through the Target affiliate program, parents will gain access to a wide range of toys to ensure their child's unbridled enthusiasm. Parents can also peruse target.com and find the perfect toy for their baby through sorting options such as brand, color, material, rating, and last but certainly not least – price. Now at Target, shoppers can buy one Easter toy and get 50 percent off their second purchase this Easter, valid 4/14-4/20.
BOGO 50% off baby toys for Easter. Valid 4/14-4/20.
---
Market these Easter travel deals on your landing page via FlexOffers.com today!