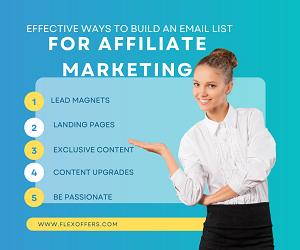 The development of an email list is essential to effective affiliate marketing. By developing a targeted and active email subscriber network, you may open up a direct line of communication with potential customers, encourage connections, and increase affiliate sales. We'll examine five doable strategies for email list creation in this blog post, which will boost your affiliate marketing efforts. To boost your affiliate revenue and grow your subscriber base, keep reading to learn some useful ideas.

---
---
1. Create Compelling Lead Magnets
Offer valuable incentives to visitors as lead magnets to entice them to join your email list. Lead magnets are freebies or premium content that are provided in exchange for a visitor's email address. These might be specialized video courses, checklists, templates, or e-books. Make certain that your lead magnets are of the greatest quality, exquisitely created, and provide a solution to a specific issue. Promote your lead magnet offers in a prominent manner on your website, landing pages, and social media accounts to pull in your audience and persuade them to subscribe.
2. Optimize Opt-In Forms and Landing Pages
Your landing pages and opt-in forms' layout and positioning are very important for collecting email addresses. Use simple, eye-catching graphics that complement your branding. To eliminate friction and speed up the sign-up process, keep the form fields to a minimum. Optimize conversion rates by A/B testing various iterations of your opt-in forms. Create material that is captivating and clearly explains the advantages of joining your email list. To entice people to enroll, emphasize any exclusive deals, discounts, or insider information they will receive.
3. Offer Exclusive Content and Promotions
Offering visitors special information or promos is a powerful approach to entice them to subscribe to your email list. Offer valuable content to your subscribers that isn't accessible to the general public. Insider information, market studies, first access to new product introductions, or special discounts and offers are a few examples. Make it quite clear that joining your email list will provide them access to these special benefits. This feeling of exclusivity can greatly boost the perceived value of signing up for your list and encourage more people to do so.
4. Leverage Content Upgrades
Content upgrades are extra materials or information that you include in particular blog posts or articles. These enhancements offer the reader more value and are closely tied to the content's subject. For instance, if you have a blog article about "10 Tips for Healthy Eating," provide a content upgrade in exchange for the reader's email address, such as a printable meal planner or a recipe e-book. Your website's user experience will be improved and you can attract visitors to subscribe by distributing content updates strategically around the site.
5. Use Social Media and Paid Advertising
Utilize social media and paid advertising to deliver relevant traffic to your landing pages and opt-in forms. Incorporate connections to your sign-up pages into your niche-related, shareable content and your social media accounts, posts, and advertisements. Target specific demographics or interests that fit your target audience using Facebook Ads, Instagram Ads, or other platforms. To increase conversions and draw subscribers, combine persuasive writing, appealing imagery, and a powerful call-to-action.
---
A successful email list can only be built over time with regular work and optimization. You can build a targeted and active subscriber base for your affiliate marketing campaigns by putting these five strategies into practice: developing compelling lead magnets, improving opt-in forms and landing pages, providing exclusive content and promotions, utilizing content upgrades, and using social media and paid advertising. Always keep testing and adjusting your tactics in light of the criticism and information you receive. You'll have a great resource to promote customer relationships, increase affiliate revenue, and drive affiliate sales if you have a growing email list.