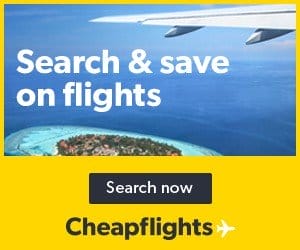 The hallmark of a thriving company is one that cultivates enthusiasm and positivity to bolster and/or preserve staff retention. One way to ensure job satisfaction among employees is a regular show of appreciation for their hard work and dedication.
Help proprietors recognize their team members' accomplishments through these Employee Appreciation Day discounts now available on the FlexOffers.com network!
---
If the administrators among your audience encounter difficulty trying to find the best way to celebrate a budding star within their organization, then they needn't look any further than Cheapflights.com. Cheapflights.com works with more than 300 partners to bring vacationers better travel deals to top destinations around the globe. By searching for flights at Cheapflights.com, business owners can gift an employee with a vacation package that keeps them inspired and eager to continue along a trajectory of success.
Compare on thousands of flights with just one click
---
With each passing year, jobs are requiring more digital skills. Thankfully, Lenovo USA's inventory affords executives the opportunity to purchase tools that allow their employees to effectively and efficiently perform job-related tasks. At Lenovo.com, companies can update their laptops by acquiring the P1Gen2. The P1Gen2 features 13 hours of battery life, cutting-edge graphics, and unprecedented power at prices even the most budget-conscious corporation would appreciate.
Get 28% off 15″ Flex 2-in-1 laptop 81SR000UUS with Intel Core i3, 4GB Memory, 128GB SSD only $419.99! Use code IDEASP7
---
Through the FruitBouquet.com by 1800Flowers.com affiliate program, your site visitors can show appreciation for a job well-done through its best-selling fruit arrangements. Its fruit arrangements are teeming with pineapple daisies dipped in decadent chocolate, strawberries, apples covered in toffee, as well as melons, oranges, and grapes. FruitBouquets.com by 1800Flowers.com offers its fruit arrangement in two sizes and now, customers can order the large arrangement for the same price as the small and save $20.
Save $20 & Get the Large Arrangement for the Price of the Small at FruitBouquets.com! (Valid till 12/31/2020)
---
One common thread among those in the workforce is time away from home, which occasionally proves to be a difficult proposition for pet owners. Through the BarkBox affiliate program, supervisors can sign pet parents up for a subscription that gives their dog a customized box of themed toys and treats every month. Each box is guaranteed to keep precious pups well-fed and entertained while dog moms and dads are away.
Get a FREE mystery toy and free shipping for life on a multi-month plan! (Valid 3/1-3/7)
---
The anticipation of the end of a successful busy season in any line of work is cause for celebration. For many, there's no better way to observe company accomplishments than enjoying fabulous fine wine from Zachys. Zachys.com allows wine connoisseurs to shop by country, producer, size, type, and many other categories, to help them identify the perfect wine to share with their team. For a limited time at Zachys.com, your web traffic will be privy to its top-20 wines for 2020 with all special sale pricing.
20 for 2020! Our top 20 picks for the year with all special sale pricing! Shop now.
---
An employee who consistently performs well on the job is a light to internal and external customers alike. When you promote the MUGLER (US) affiliate program on your landing page, supervisors will have access to scented candles that allow them to return the favor and light up their employees' life as well. MUGLER (US) features a variety of candles including its Aura scented candle comprised of fragrances that inspire moments of wellness and a renewed connection with one's deepest desires.
Just Launched! MUGLER Scented Candles – Available Exclusively Online
---
Capitalize on these Employee Appreciation Day now available through the FlexOffers.com network!