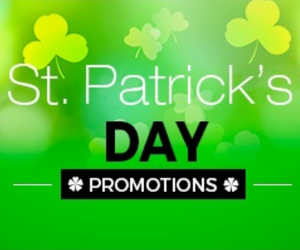 St. Patrick's Day is near, and lucky for your customers, FlexOffers has gathered the latest deals from top brands to help them celebrate the holiday without emptying their pot of gold.
Advertise these enticing St. Patrick's Day deals on your site, available now on the FlexOffers network! 
Total Wine affords customers a curated selection of authentic spirits from the Emerald Isle suitable to celebrate St. Patrick's Day. Customers can enjoy same-day delivery services and get their favorite imported whiskey delivered right at their doorstep. For a limited time, customers can purchase from Total Wine spirits selection without leaving the house for as low as $4.99 when they shop at totalwine.com.
LIMITED TIME ONLY! Get all your favorites delivered for as low as $4.99
If travelers are in search of budget-conscious accommodations for their upcoming St. Patrick's Day trip, IHG Hotels & Resorts has them covered. With thousands of hotels and resorts well-located around the world, IHG Hotels and Resorts truly offers something for everyone, with a high level of service and luxury. Promote IHG Hotels & Resorts deals on your site and help vacationers save 15% on their upcoming St. Patrick's Day getaway.
Book and Save 15% on Your St. Patrick Day Celebrations!
See's Candies St. Patrick's Day collection offers tasty treats and desserts certified to put a smile on anyone's face. At seescandies.com customers will find from treasure coins to chocolate shamrocks, and other festively decorated treats made with quality ingredients to satisfy everyone's taste buds.
Shop See's St. Patrick's Day Chocolates and party-ready treats!
Many cities around the world celebrate St. Patrick's Day. Whether traveling within the U.S. or visiting the Emeralds Isle, Onetravel.com can help customers save – no matter the destination. When booking their St. Patrick's Day vacation with Onetravel.com, travelers can save up to $35 on airfare fees by using the code DAY35 at checkout.
St. Patrick's Day Deals! Celebrate with these amazing flight deals! Book with Code DAY35 today and save up to $35 on our fees!
Tommy Hilfiger is one of the world's leading designer lifestyle brands, recognized for its timeless styles and premium materials. This St. Patrick's Day, fashion enthusiasts can celebrate in style with casual, trendy apparel pieces while saving an extra 17% off their purchase when they shop at usa.tommy.com.
60-80% off Last Act! Shop now at Macys.com.
The Irish Store affords customers some of the finest products in fashion, jewelry, and home goods that Ireland has to offer. From traditional Irish women's clothing to beautifully crafted Irish housewarming gifts, customers will discover a curated selection of high-quality products that will help them learn and appreciate the Irish culture this St Patrick's Day. Now at theirishstore.com, shoppers can save $20 on all orders over $200 when using promo code AFF20LESS.
$20 OFF on orders over $200 with promo code AFF20LESS