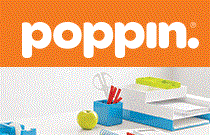 As the FlexOffers.com team knows a thing or two about spending long hours at the office, we appreciate the occasional distraction that fosters positive thinking. Poppin office products fit this description perfectly, as their bold colors and modern designs are a joy to behold after staring at black and white copy for most of the day. Your audience members will appreciate these goods as well, particularly after they take a look at the Poppin promotions we've gathered below!
---
---
Enjoy $15 off any purchase of $150 or more from Poppin.com! Use Promo Code: POPMAY15150 (Offer ends 5/31/2015)
Take an additional 25% off select products from Poppin! Use code: SPECIALDEALS (Offer ends 5/31/2015)
What prospective clientele and business partners see after taking the first steps into an office can greatly affect the way they conduct themselves with the people within. Should the floors be unironically covered in shag carpet with seating straight from the 70s, chances are the company conducting business there may be just as out-of-date. Now, with a few strategically placed lounge sofas and chairs in solid colors from Poppin, guests won't be repelled to wait a few minutes while the finishing touches are made for meetings in adjacent areas. Corporations wishing to evoke ideas of innovative thinking and modern design will surely want to outfit their office with these items.
Outfit your office with fun furniture and save $115 on $1500 or more from Poppin.com! Use code: ALLSET (Offer ends 5/31/2015)
Accessorize your desktop with bright desk sets and save $10 on $85 or more from Poppin.com! Use code: POPMAY1085 (Offer ends 5/31/2015)
Keep your smaller accessories tucked away with the White Bits + Bobs Tray for only $5 from Poppin.com!
In addition to impressing the fresh faces who make their way through an office for the first time, employers might find it beneficial to keep their employees cheerful to keep productivity up. Poppin.com is where office managers and individual professionals will want to go to liven up a desktop using the brightly-colored organizational goods in stock. Creative types don't necessarily have to keep their desks in a perpetual state of chaos to get work done, particularly when they have adjustable trays at hand in a myriad of colors. Office essentials like staplers, mouse pads, and desktop frames to fill with inspiring images can all be sourced through this storefront.
Your page visitors wanting to bring their workspaces into the modern day needn't look any further than the Poppin affiliate program. If you're searching for an office supply outlet that appeals to dynamic, forward-thinking professionals, then Poppin is the company you'll want to promote on your landing page.
For even more Poppin promotions, check out the FlexOffers.com network today!