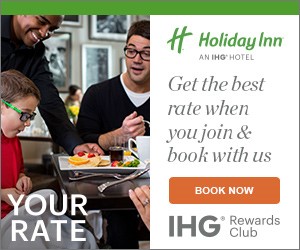 The Nor'easter making landfall in the coming days will see everything from coastal flooding to thundersnow affect 50 million people in the United States, though through the InterContinental Hotels Group affiliate program, those folks can escape the storm's path and book rooms anywhere else across the country.
Rather than blaming Punxsutawney Phil for this treacherous winter weather, capitalize on the InterContinental Hotels Group links available to promote on your site through FlexOffers.com!
---
Book early and save up to 15% with Your Rate. The best deal, plus all the benefits you love when you book directly with IHG.
Make a splash! Book a wet 'n wild adventure at one of our Holiday Inn, an IHG hotel, Water Parks or Holidomes.
Spend less on a vacation that's just your style. Find ideas for your next trip, and save up to 15% on hotels when you're an IHG® Rewards Club member.
---
Why would your readers spend their week (and weekend) shoveling snow when they could instead head to Nassau and stay at an affordable IHG property? With a full business center, free breakfast, and a pool that's likely not frozen over solid, travelers can trek to the Holiday Inn Express & Suites at this tropical locale and work remotely in comfort.
Anyone wishing to stay on the mainland while getting away from the Nor'easter could also consider heading west, where the InterContinental Los Angeles Downtown property has just opened its towering doors. Standing 73 stories tall and boasting 889 guestrooms, this is the largest hotel in the Americas and the perfect centralized LA location to see the best that the city has to offer, both figuratively and literally.
---
Where will you go next? Members save up to 15% in Orlando. Find trip ideas, hotel deals and more.
Kids Stay & Eat Free! Bring the whole family to Holiday Inn, an IHG hotel!
Experience luxury for less. IHG Rewards Club members save up to 20% on hotels in select cities.
---
Families escaping the nor'easter may want to take this opportunity to book a room in the Orlando area and check out the new theme park attractions that their children are anxiously awaiting to see. There are dozens of InterContinental Hotels Group resorts to choose from in and around Disney Springs, Universal Orlando, and Sea World, making it exceptionally easy for guests to not waste time navigating traffic between park visits.
This is also an excellent weekend for your audience members to escape to Texas to indulge in a few world-class barbecue competitions. There are plenty of vacancies at IHG properties near Elgin and La Grange, and a host of hotels in other BBQ capitals like Austin, Dallas, and Houston. No matter where your patrons end up in Texas this weekend, there's an excellent chance of incredible regional cuisine and even better accommodations that aren't buried in multiple feet of snow.
---
---
Help your site visitors escape the nor'easter with these enticing InterContinental Hotels Group affiliate program savings on FlexOffers.com today!
---
From January 1 to April 30, 2018, IHG® Rewards Club members who sign up for Accelerate and stay at IHG® hotels will enjoy extra bonus points and earn Reward Nights at 5,000+ IHG® hotels worldwide. New members in Greater China can earn up to 30,000 bonus points towards hotel stay up to 3 nights after completing 2 stays at IHG® hotels with Accelerate. This is your year to travel the way you want to. Whether it's family time or "me" time, the new Accelerate values your time to get you where you want to go.