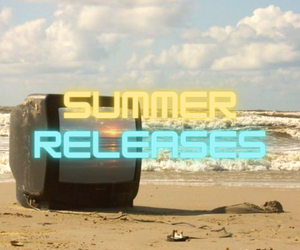 Summertime offers a new opportunity for everyone to unwind and discover new leisurely activities that will bring the most enjoyment into each day. From sporting events and movie releases to the ultimate summer fashion collections, the FlexOffers Marketing team has gathered the latest deals on some of the biggest releases in entertainment and fashion.  
Boost your earnings this season when you promote these exciting five-star summer releases now available on the FlexOffers network! 
If your customers are looking for a streaming service with a rich selection of food, home, and relationship shows, then they needn't look any further than Discovery+. Discovery+ offers viewers thousands of real-life and original tv shows. From lifestyle and true crime to home improvement and adventure, your customers are guaranteed to find their new TV obsession this summer. Promote Discovery+ deals on your site and allow customers to join the streaming service for as low as $4.99 a month. 
Join discovery+ for as low as $4.99 a month
G-Star RAW's Hardcore Denim collection offers stylish denim pieces for men and women to incorporate into their summer wardrobe. This new collection is made with the purest form of denim, designed for long-lasting durability and to help reduce the impact on our planet. Currently at g-star.com, customers can purchase new summer staples and save 25% off select styles. 
Showtime streaming service offers viewers all of Showtime's original content, including TV shows such as The First Lady and Billions and blockbuster movies like Minari and Ex Machina. This summer, your customers can enjoy movie nights with friends and family or catch the latest episodes of their favorite drama – all commercial free from their favorite streaming device.  
Everything you want now together – Paramount+ Bundle
The Disney Movie Club allows families to own the movies they love forever. From the mightiest superhero stories to the most-acclaimed musicals, Disney Movie Club offers a rich catalog for all Disney fans. By joining the Disney Movie Club, customers will gain access to their favorite movies every four weeks and obtain discounts and exclusive merchandise, guaranteeing a summer filled with magic. 
Sign up today and get 4 movies for $1 plus FREE shipping!
Whether going on a cross-country trip with friends or sailing off on a summer cruise, UNIQLO offers all the travel essentials for everyone's summer vacation. UNIQLO's summer vacation collection provides a unique selection of comfortable and lightweight fashion pieces made with playful, vibrant prints and neutral classics befitting everyone's styles.  
Summer Vacation Essentials
Hulu is one of the leading subscription streaming services with an immense selection of films, tv series, Hulu Originals, and Live TV. When customers sign up for the Hulu + Live TV plan, they will gain access to a personalized TV experience with multiple profiles and deep recommendations based on their preferences. Promote Hulu deals on your site and allow customers to watch live and on-demand TV without any cable subscription. 
ESPN+ provides sports fans with thousands of live events from the best leagues and biggest tournaments around the globe. An ESPN+ subscription can go a long way towards entertaining everyone at home by giving them full access to their favorite sports events, daily sports talk shows, and groundbreaking originals to enjoy this summer and beyond. Market ESPN+ deals on your site and allow sports enthusiasts to sign up for one of the leading sports streaming services for only $6.99 a month. 
Subscribe to ESPN+ for just $6.99 a month